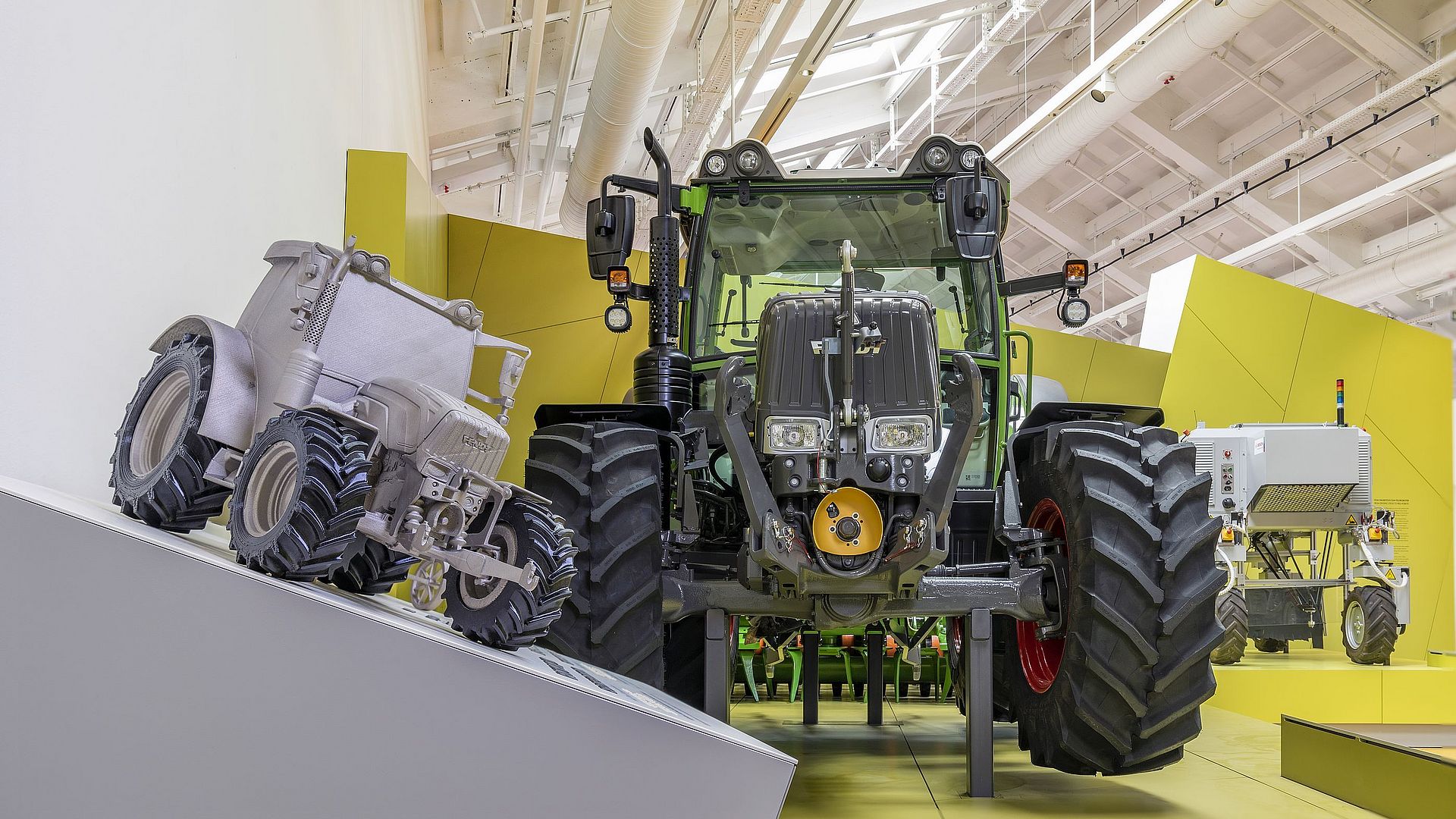 Man and Environment
Agriculture and Food – From the field to the table
Across several thematic areas with numerous interactive elements, you will learn about the origins of our "daily bread" – and discover its impact and adverse effects on our health and the environment.
This exhibition provides a wonderful insight into where our food comes from and how it is produced. Presented across several thematic areas, the museum's technology-driven, historical collection is linked to social, economic and ecological factors. In the first room, idyll and reality are juxtaposed, symbolised by an original alpine hut and a modern forage harvester. We then focus on livestock and their treatment – from breeding and husbandry to slaughter. The next thematic area is dedicated to agricultural machinery and includes a historic Lanz Bulldog tractor, a combine harvester and a prototype of a field robot. Their field of application – crop cultivation – follows in the next thematic area. At the centre of the exhibition hall in a darkened, partially mirrored room, visitors can watch a large atmospheric projection of a wheat field over the course of a year. At the far end of the exhibition, brewing kettles, a model of a brewery and a steam oven await. And the interactive food shelf provides food for thought on abundance and scarcity in the modern world.
View Inside the Agriculture and Food Exhibition
Facts and Figures
Location: Level 3
Exhibition space: approx. 982 m2
Exhibits and models: approx. 200
Media stations and demonstrationsn: 25
Dioramas: 3
Any Questions?
Leitung Hauptabteilung AI Naturwissenschaften und Kuratorin für Umwelt und Deutscher Zukunftspreis
Kuratorische Leitung Ausstellung Landwirtschaft und Ernährung

Telephone +49 89 2179 565
Fax +49 89 2179 99350
Email s.gerber-hirt@deutsches-museum.de