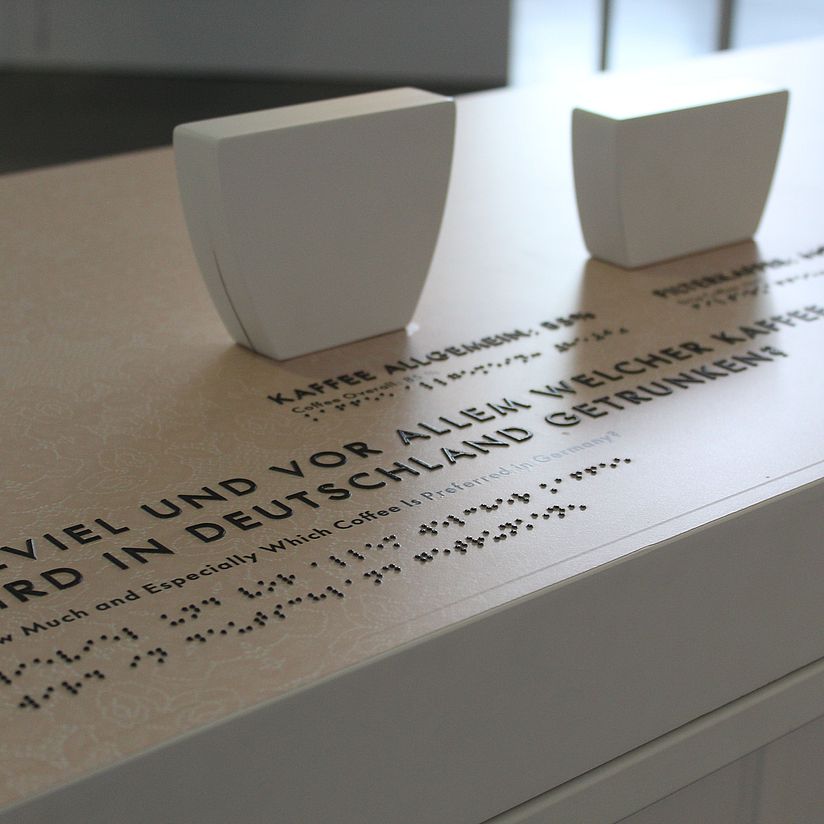 Barrier-free access
Information for visitors with mobility impairments
Accessing the museum
Visitors enter the Deutsches Museum from the museum courtyard (cobblestone paving) and the main entrance can be accessed via a ramp and has an electric door opener.
Accessing exhibitions
The Deutsches Museum is committed to making its exhibitions and other resources accessible to all visitors. The museum is currently undergoing extensive renovation and modernization under the Future Initiative, during which we aim to optimize our services with regards to barrier-free accessibility and visitor friendliness. We very much regret any inconveniences that may occur during the construction work. Our Exhibition Services team are happy to provide support with finding your way around the museum and can advise how best to access barrier-free facilities.
Ramps: 80% of our exhibitions are accessible via ramps and lifts. Wheelchairs can be borrowed from the Information Desk by the main entrance.
Only accessible via stairs:
The mine (more than 120 steps, very steep at times)
The gallery levels in the Astronomy, Historical Metallurgy and Marine Navigation exhibitions
The Amateur Radio, Amateur Astronomy (level 4) and Microelectronics (level 3) exhibitions
The lower levels of the Marine Navigation and Oceanography exhibitions, the Environment exhibition (level -1), the middle section of the Power Machinery hall, and the Planetarium on level 6
Service
Disabled persons (no charge for a registered helper) €8
Lifts
Passenger lifts measuring 78cm wide are located in the museum's entrance area (level 0). A freight lift is also available. Please speak to our staff for further information.
Assistance dogs
Assistance dogs are allowed (identification must be shown to staff at the Information Desk by the entrance).
Cloakroom
The cloakroom and lockers are located in the entrance area and are accessible by ramp. Our security staff can provide assistance if required.
Food and drink
Picnic room for self-catering and school classes on Level 0
Wheelchair-accessible toilets
Level 0, by the entrance to the Kids' Kingdom
Due to restrictions on use during the renovations, there is unfortunately only one barrier-free WC facility available at the moment.
Wheelchairs
Wheelchairs can be borrowed from the Information Desk by the entrance.
First aid room
Located on the ground floor. If you require first aid, please speak to staff in the exhibition areas or at the Information Desk by the entrance.