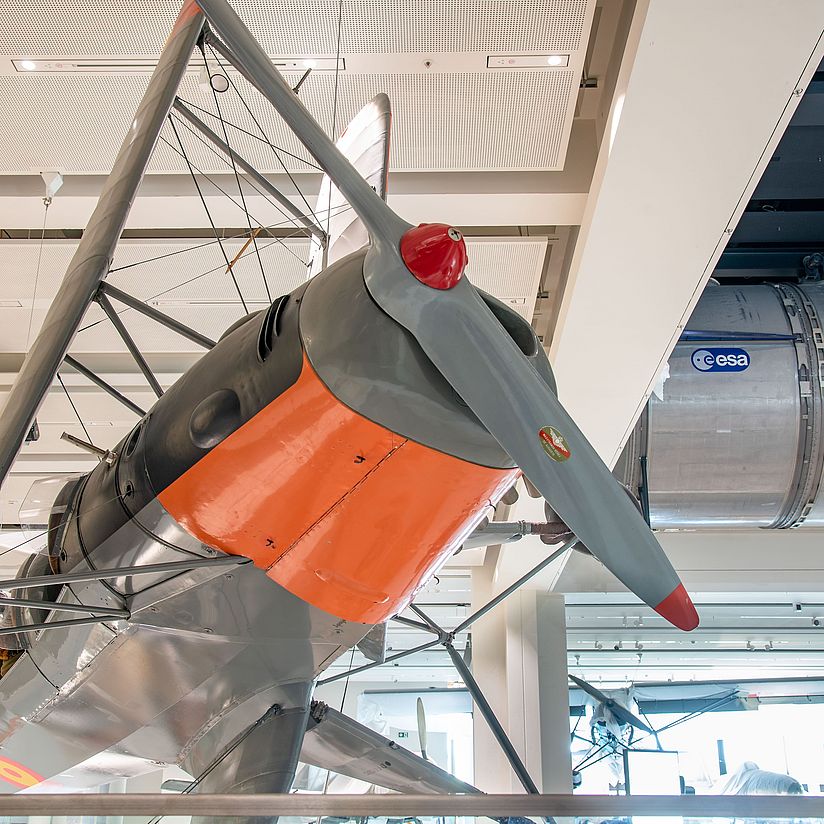 Historic Aviation (from 1918)
It's going up!
The dream of flying came true for mankind as early as the 18th century - with the first balloon flights. After that, it took another 100 years before human flight was decisively spurred on by gliders and sailplanes. In the years that followed, technical progress accelerated considerably and aviation experienced its great upswing with the development of motorized flying machines at the beginning of the 20th century. Among other things, the two world wars played a major role in this. After all, our mobile modern age, especially the globalization of transport technology, was in many cases founded on innovations for military purposes.
Machines and models: With its numerous original aircraft, the Historical Aviation exhibition is an eye-catcher in itself. On level one and on a gallery on the mezzanine level above, the focus is on the history of flying during the first half of the 20th century, when aviation underwent a rapid technical rise. How this was directly influenced by the two world wars is a central point of the presentation. The exhibition is divided into five overarching sections: The period of the Weimar Republic, the years from 1933 to the end of World War II, and an overview of aircraft engines can be found in the main room on level one. The gallery is dedicated to model and glider flight. Whereby, between the impressive exhibits on both levels, you can also trace the exciting history of aviation with numerous media stations and demonstrations.
"From the first all-metal passenger aircraft to the V2 rocket as a 'retaliatory weapon': Historic Aviation 1918 to 1945 tells the story of the quest for ever-improving flight performance, of the rapidly growing aircraft industry and technical limits, but also of human suffering and persistent myths surrounding German aviation history up to the end of World War II," says Andreas Hempfer, curator of the exhibition.
Facts and Figures:
Location: levels 1 and 1+
Exhibition area: approx. 2500 sqm
Objects: approx. 690 (including 16 entire planes)
Demos and interactives: 8
Dioramas: 3
Media stations: 12
Highlight: The Junkers Ju 52
The Junkers Ju 52, a three-engine all-metal aircraft, became world famous as "Aunt Ju". Because of its robustness, ease of maintenance and reliability, it became the standard commercial aircraft of Deutsche Lufthansa in the 1930s. During World War II, the Ju 52 was used as a transport aircraft. It is - after the American DC-3 - the most widely built transport aircraft in the Western world. Over 5000 were produced between 1932 and 1952. The specimen on display was manufactured in France in 1947 under the designation AAC.1 Toucan. Via side stairs it is possible to enter the "Aunt Ju" and have a look at the passenger cabin and the cockpit of the aircraft.