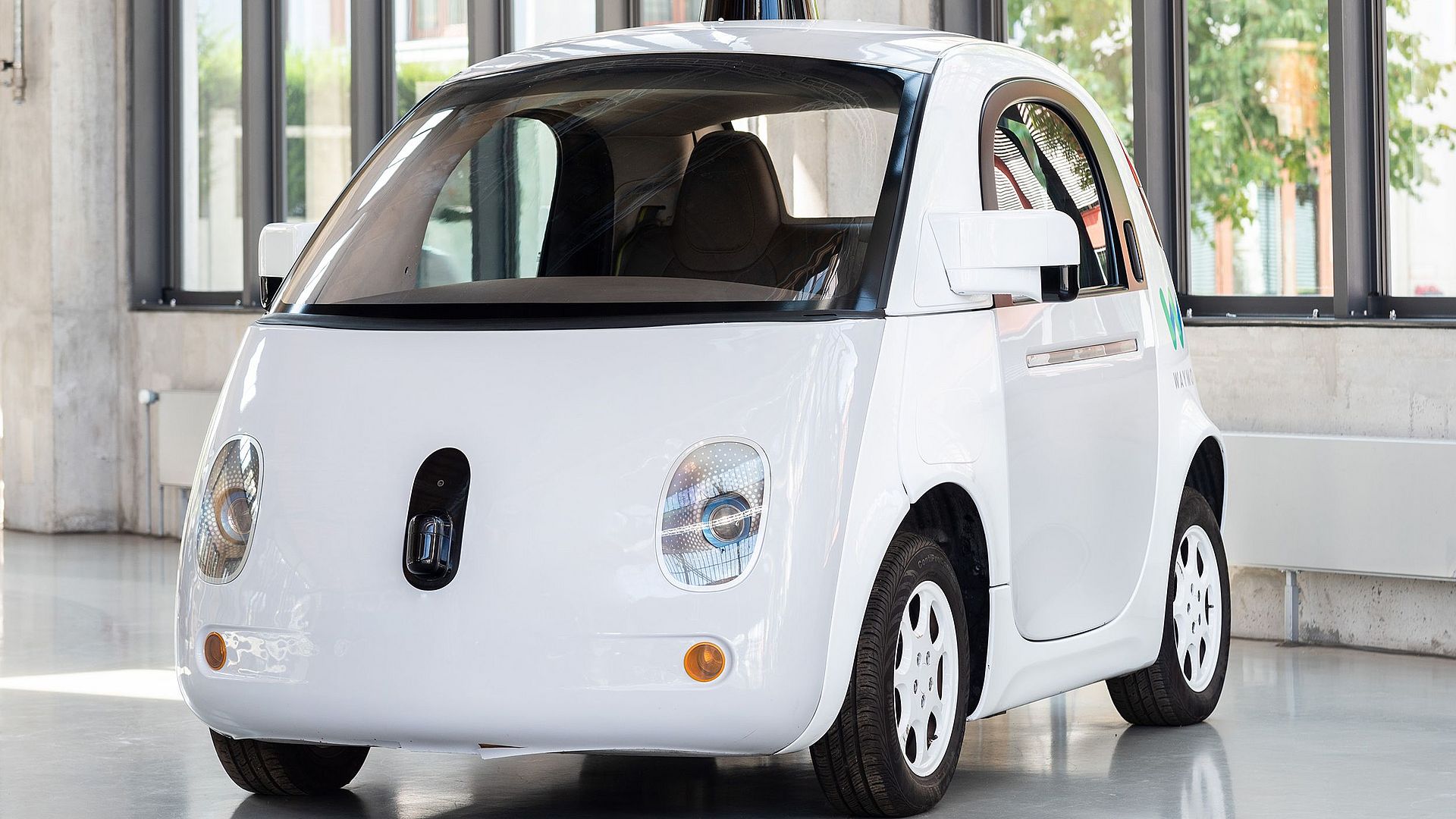 Our Highlights
Special Objects – Urban Transport Exhibiton
Berlin S-Bahn, Daimler Riemenwagen, BMW 502 or Messerschmitt Kabinenroller: Discover more about our special objects in the Urban Transport exhibition.
Railcars
Berlin S-Bahn
WUMAG, Görlitz, 1927
In the densely populated cities of the 1930s, the S-Bahn offered not only a high level of acceleration but also, above all, a large transport capacity. In Germany, S-Bahns were first used in Berlin. In the course of the electrification of the Stadtbahn, Ringbahn and suburban railways, an S-Bahn concept was developed here beginning in 1913, which was implemented over 150 kilometres starting in 1928. The companies WUMAG in Görlitz and Orenstein & Koppel in Berlin were each commissioned to develop and produce a half-train consisting of a railcar and a driving trailer. The first test runs were carried out in spring 1927.
After the "Stadtbahn" type had been built in series by a cartel of six combined wagon factories, a grand total of 1268 cars were produced. This made it the largest series of vehicles in Germany to be built in a short time according to uniform principles. As the vehicle was hardly changed within 50 years, it can be regarded as an important testimony to the history of transport in Berlin and of German railcar building.
Technical data
Power system: 800V DC
Maximum speed: 80km/h
Weight: 38t
Seats: 54, standing room: 154
Inv.-Nr.: L2006-12
On loan from: Verein Historische S-Bahn e.V., Berlin
Railcar 801 of the Nuremberg-Fürth Tramways
MAN, Nürnberg; SSW, Berlin, 1926
This series formed the backbone of the Nuremberg-Fürth tramways for a long time. It was the largest uniform railcar series ever put into service in Nuremberg. Car 801 was used on the main lines 1 and 21 after its delivery and could be equipped with up to two trailers depending on the passenger volume. On 15 December 1963 it was converted into a maintenance tram and renumbered accordingly. On 31 July 1975, the A80's use in track construction also came to an end and the vehicle was taken out of service.
The load-bearing parts of the railcar body are made of oak. In addition, the railcar was equipped with components and technologies that were considered to be advanced in the 1930's, such as the barrel roof and so-called regenerative brakes: this allowed energy consumption to be reduced by feeding the energy released during braking into the power grid. A technology that is still standard today.
Technical data
Power: 2x40kW / 2x50kW (after conversion)
Weight: 12,000kg
Length: 10.04m
Seats: 18, arranged lengthwise, standing room: 39
Inv.-Nr.: 2006-339
Donation: VAG Verkehrs-Aktiengesellschaft, Nürnberg
Half of Railcar 6092, the first Munich Underground Train
WMD, Donauwörth; MAN, Nürnberg; Rathgeber, München, 1967
On 22.9.1967, the car was delivered as one of three prototypes for the new underground in Munich. Thanks to lightweight construction with extruded aluminium profiles, high starting accelerations, short braking distances and low energy costs were achieved. Six wide double doors on each side help passengers quickly leave and board the subway.
Power was supplied via conductor rails with 750V direct current. The electric wagon equipment was simple and robust and offered high operational safety. Their low weight ideally complemented the lightweight construction. Up to 6 railcars could be linked together. A track conductor between the tracks enabled the trains to run largely automatically with target braking at the platform.
Car 6092 was taken out of service on 28 December 1995 and donated to the Deutsches Museum on 1 August 2006.
Technical data (data for a double unit)
Power: 4 x 180kW
Wagon length: 36.5m
Empty weight: 51.6t
Maximum speed: 80km/h
Seating capacity: 98 seats, 192 standing places
Inv.-Nr.: 2006-337
Donation: Stadtwerke München
Rail Transport
Passenger Locomotive "Landwührden"
Krauss & Cie., München, 1867
The first locomotive built by Krauss & Companie in Munich stood out due to its particularly light construction. Cost-effective to manufacture and maintain, it was particularly suitable as a local railway serving small towns in the countryside. At the International Exposition of 1867 in Paris, the "Landwührden" won the gold medal for its advanced design. It was in service as a passenger locomotive until 1900, covering 860,000 km. Georg von Krauss, who had since been ennobled, supported the newly founded Deutsches Museum by repurchasing his first locomotive for a cheap price, overhauling it and donating it to the technology museum as one of its first major exhibits.
Technical data
Power: 185kW (252hp)
Maximum speed: 60km/h
Mass: 23,600kg (operational without tender)
Inv.-Nr.: 5934
Foundation: Krauss & Cie., München
Utility Vehicles
Büssing Truck with Ackermann Bodywork
Büssing-Automobil-Werke AG, Braunschweig, 1963
The Büssing forward-control truck presented at the IAA 1953 was the model for other vehicles of this type, which gradually replaced the bonnet trucks. The truck served as a special-purpose vehicle for various superstructures. It was continuously developed further and appeared in 1962 as the "Burglöwe Universal" with a universal chassis, a 126hp underfloor engine and all-wheel drive. Despite its advanced technology, however, Büssing was unable to compete with the large truck manufacturers. Declining sales in the 1960s led to the takeover by MAN in 1968, which adopted the Brunswick Lion in its logo.
Inv.-Nr.: L 2006 - 23
On loan from: Georg Reischl, Ebersberg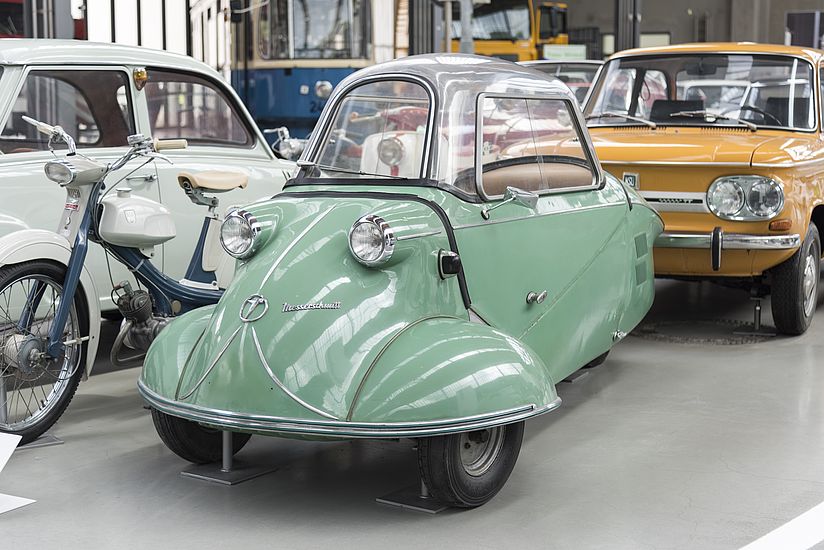 Messerschmitt-Kabinenroller
Regensburger Stahl- und Metallbau GmbH, Regensburg, 1954
The aircraft engineer Fritz Fend designed this spartanly equipped automobile for two people. Its operation took some getting used to: a reverse gear was only available available for an extra charge, the windscreen wiper was operated by the right index finger via a Bowden cable, and the driver of the three-wheeler had to be careful not to tip over in curves. The plexiglass cover served as wind and weather protection. It gave the three-wheeler the nickname "Snow White's Coffin". Nevertheless, more than 50,000 KR 175 and 200 models were sold by 1964.
Technical data
Engine: Two-strokespark ignition engine from Fichtel & Sachs
Displacement: 173cm³
Speed: 80km/h
Power: 6,8kW (9hp) at 5250rpm
Inv.-Nr.: 1975-322
Donation: Peter Vaitl, Regensburg
Krupp Street Cleaner with Water Tank
Friedrich Krupp A.G., Essen 1924
This three-wheeled street cleaner has a water tank and a trickle device. The cylinder broom, which was angled to the direction of travel, swept dirt to the side of the street, where it then had to be swept up by hand. The water helped soften the dirt and prevent dust from being stirred up. The three-wheel design ensured a small turning circle. According to the manufacturer, the automobile street cleaner was able to do the work of two horse-drawn sweepers or 60 workers. Especially in larger, fast-growing cities, motorised sweepers helped municipalities to affordably carry out the new and increasing number of street-cleaning tasks.
Inv.-Nr.: 1985-445
Daimler-Riemenwagen
Wilhem Maybach, Cannstatt, 1895
The car, named after its now unusual belt-drive, marks the beginning of Daimler Motoren Gesellschaft's automobile production. Although it was only produced in small numbers, it made Daimler famous in England and the USA.
This specific vehicle was ordered by the watch manufacturer Arthur Junghans and was built in a provisional workshop in three months at a cost of 4800 Deutsche Mark. The constructing engineer personally instructed the buyer and his chauffeur in its handling, because driving schools did not yet exist at that time.
Technical data
Engine: Two-cylinder, four-stroke in-line engine with spray-nozzle carburettor and finned cooling system
Displacement: 762cm³
Power: 1.8 kW (2.5hp) at 700rpm
Speed: 20km/h
Inv.-Nr.: 6374
Donation: Arthur Junghans, Schramberg
BMW 502 (2600 L)
BMW AG, München, 1963
The BMW 502 was produced from 1954 to 1964 and was the first German passenger car after the Second World War to have an 8-cylinder engine. The vehicle in the collection of the Deutsches Museum was in service until 2010. The car was driven 231,000 kilometres, 120,000 of them in the service of the former mayor of Munich, Dr Hans-Jochen Vogel.
Technical data
Engine: 8-cylinder V-engine
Displacement: 2562cm³
Top speed: 164km/h
Consumption: ca. 15-18l per 100km
Inv.-Nr.:2011-881
Adler Standard 6 S
Adlerwerke vorm. Heinrich Kleyer A.G., Frankfurt a. M., 1928
This car by the Adler-Werke, one of the largest German car manufacturers in the 1920s, was the first large saloon car built in Germany using modern principles of mass production, one of the largest German car manufacturers in the 1920s. It was not only popular as a company car and with taxi companies, but was also used by the police. In 1927-29, Clärenore Stinnes circumnavigated the globe in an Adler Standard 6 S.
The model for the design was an American Chrysler. Like the latter, the Standard had a hydraulic four-wheel brake and a steel body instead of the conventional wooden frame covered with sheet metal. The coachwork was supplied by the German-American manufacturer Ambi-Budd in Berlin and the Karmann-Werke in Osnabrück.
Technical data
Engine: 6-cylinder
Displacement: 2916cm³
Power: 37kW (50hp)
Top speed: 85km/h
Inv.-Nr.: 1986-352
Donation: Reimar Mehle, Briefordnerfabrik Emil Mehle & Co., Göttingen
NSU 201 OSL
NSU-Werke AG, Neckarsulm, 1935
Probably in order to increase sales, NSU based the OSL models on the design of English sports motorbikes. Accordingly, the type designation, abbreviated for Obengesteuert-Sport-Luxus ("top-controlled sports luxury"), also served this purpose. Due to their performance, however, the top-controlled four-strokes were designed less for sport than for everyday use. The 201 OSL is the smallest version of this series. It was developed for the 200cc class, which for a long time was not taxed and could be driven without a license in Germany. With its four-stroke engine, this vehicle was an exception.
Technical data
Engine: single cylinder four-stroke, air-cooled
Displacement: 198cm³
Power: 6.2kW (8.5hp)
Speed: 80km/h
Inv.-Nr.: 1976-905
Donation:Heinrich Lauer, München
Waymo "Firefly"
Waymo, Mountain View, USA, 2014
The "Firefly" model marks a piece of history in the development of autonomous driving. It is equipped all around with radar, laser rangefinders, cameras and microphones. 360° scans of the surroundings are created with the help of sensors in the roof capsule, the rear, the front and the exterior mirrors. Instead of a human chauffeur, the software processes the captured environmental information and sets the vehicle in motion. As Waymo now develops and installs the technology in production vehicles, this prototype is already in the museum after a two-year test phase.
Technical data
Year of manufacture: 2015
Length: 3.45m
Height: 1.98m
Width: 2.02m
Seats: 2
Drive: electric motor
Maximum speed: 40km/h
Range: 40km
Inv.-Nr.: 2020-666
Donation:Waymo