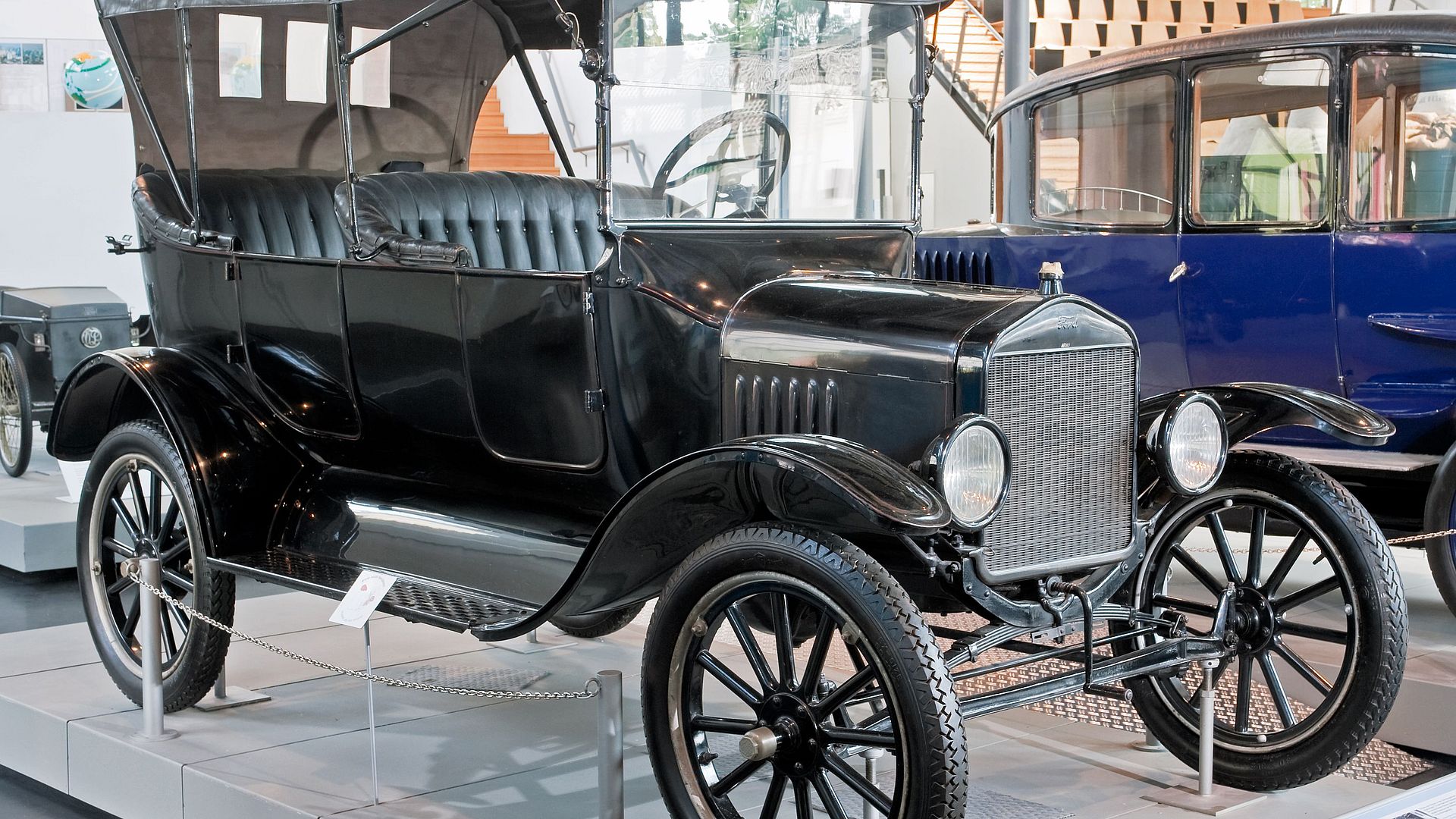 Our Highlights
Special Objects – Mobility and Technology Exhibiton
Benz-Patent-Motorwagen, "Puffing Billy" Steam Locomotive, Ford Model T or Rumpler-Tropfenwagen. Find out more about our special objects in the Mobility and Technology exhibition.
Protos Racer
Motoren-Fabrik Protos GmbH, Berlin,1907
The Berlin company Protos built this robust car in 1907, with which a German team led by Lieutenant Colonel Hans Koeppen successfully took part in the first rally around the northern half of the globe in 1908.
The Protos racecar was built specifically for the demands of racing. It had a reinforced touring chassis, a special bodywork with a box body and tarpaulins for driving through the cold zone. With fuel supply and breakdowns in mind, the heavy car was equipped with additional tanks and tension rims that allowed for quick tyre changes.
Technical data
Engine: 4-cylinder four-stroke in-line engine
Displacement: 4560cm3
Power: 2 kW(30hp) / 1500rpm
Maximum speed: 80km/h
Weight: 2700kg
Fuel consumption: 30l/100km
Inv.-Nr.: 27877
Donor: Siemens-Schuckert Werke GmbH, Berlin
Benz-Patent-Motorwagen
Rheinische Gasmotoren-Fabrik Mannheim, Germany, 1886
In 1886, the German engineer Carl Benz (1844–1929) applied for a patent for a "vehicle with gas engine operation", the first automobile with a petrol engine. Benz, himself a cyclist, partly used common bicycle components for the construction of his motorised tricycle, which he obtained from the well-known Adler bicycle manufacturer. The bike's structure was very light by the standards of the time. The centerpiece of the car was its high-speed one-cylinder engine with a carburettor, which was operated with liquid fuel such as petrol.
From today's perspective, the Benz-Motorwagen did in fact revolutionise the entire transport system. In the beginning, however, it had attracted little attention amongst contemporaries. First, a market for automobiles needed to be created.
Initially, it was motor sports enthusiasts who discovered the "self-propelled car" for themselves. The Benz-Motorwagen enjoyed the greatest success in France, which in the 1890s became the "trendsetter" of the automotive community in Europe through marketing and sporting events. In 1888, Bertha Benz and her sons set out on their first "long-distance trip" in an automobile from Mannheim to Pforzheim, which turned into a local advertising tour.
Technical data
Engine: one-cylinder four-stroke engine
Displacement: 984cm3
Power: 0.66kW (0.88hp)
Maximum speed: 12km/h
Weight: 265kg
Consumption: ca. 10l/100km
Auto Union Type C "Grand Prix"
Auto Union AG, Zwickau/Saxony, 1936/37.
As one of the most successful racing cars of its time, the Auto Union Type C won 10 of 17 Grand Prix races in which it competed.
The design of the Auto Union Type C was groundbreaking: The designer Ferdinand Porsche equipped it with a 16-cylinder mid-engine arranged longitudinally in front of the rear axle – the standard in racing car construction today. A supercharger charged the engine to 520hp.
The technical design complied with the rules and regulations of the FIA at the time, which tested many new specifications with restrictions on engine capacity, fuel consumption, weight, etc. between 1907 and 1939.
It was not until the 1920s that single-seat race cars appeared in Grand Prix races – the precursor of today's Formula 1. A few years later, motorsport in Germany took a political turn: The Nazis heavily promoted the sport and used the successes of famous race drivers for their own propaganda purposes.
Technical data
Engine: 16-cylinder V-engine (45°)
Displacement: 6005cm³
Power: 382kW (520hp) at 5000rpm (Roots-type supercharger 0.95 bar)
Top speed: 340km/h
Weight: 750kg (without tyres), ca. 1130kg take-off weight
Inv.-Nr.: 68403
Büssing ZU 550
H. Büssing-Specialfabrik für Motorlastwagen, Braunschweig, 1903
The Büssing ZU 550 built in 1903 is the oldest surviving German-manufactured truck. Most early automobiles were sports cars for wealthy customers. The ZU 550, on the other hand, was a the first real commercial vehicle.
The developer of the ZU 550, Heinrich Büssing, was also an entrepreneur. That is why he built his truck with the aim of achieving the greatest possible economic efficiency. Because it was cheaper and faster than a horse-drawn vehicle, the truck became interesting for carriers. The ZU 550 had a engine with an overhead camshaft which was very modern at the time.
A specially designed suspension with disc springs absorbed the forces generated during starting and braking. This protected both the driver and the goods being transported. During development, the ZU 550 was systematically tested, then dismantled and inspected. The improvements were incorporated into the construction of subsequent trucks and buses.
Technical data
Engine: 2-cylinder internal combustion, water-cooled gasoline engine
Displacement: 2250cm3
Power: 6.6kW (9hp)
Payload: 3000kg
Maximum speed: approx. 15km/h
Weight: 3450kg
Inv.-Nr.: 78201
Donor: Büssing Automobilwerke AG, Braunschweig
"Puffing Billy" Steam Locomotive
William Hedley, Wylam, England, 1814
"Puffing Billy" was the first serviceable steam locomotive. It was built in 1814 by William Hedley and used in a coalmine in Wylam, England from 1814 to 1862. The locomotive ran on cast-iron rails that initially broke under the weight of the locomotive. In order to better distribute its load, Puffing Billy was temporarily converted to four axles. Once stronger rails had been built, the locomotive was converted back into a four-wheeler with two axles.
As was typical of the earliest freight railways, which were built around coalmines, steelworks and textile mills, Puffing Billy was used to haul coal wagons from a mine near Wylam. Large transport volumes had to be handled, even in the early days of industrialisation.
Technical data
Drive: two-cylinder steam engine
Power: 18 kW (25hp)
Weight: 9190kg (without tender)
Maximum speed:10 km/h
Year of construction: 1814/1906 (replica)
Inv.-Nr.: 011199
Reproduction by the central workshop of the Royal Bavarian State Railways for the Deutsches Museum, 1906
Donor: Verein Deutscher Eisenbahnverwaltungen, Berlin
Ford Model T
Ford Motor Company, Detroit/Michigan, 1922
Ford's Model T was the first car to be manufactured on an assembly line. Assembly line production streamlined manufacturing and lowered selling prices.
When Henry Ford and his team of engineers began developing the Model T in 1906, the Ford Motor Company, founded in 1903, was already one of the largest American car manufacturers. Ford's goal was to produce a light, robust and durable automobile that would be affordable to anyone with a regular income.
Technical data
Engine: 4-cylinder four-stroke engine
Displacement: 2900cm3
Power: 14.7kW (20hp)
Top speed: 70km/h
Inv.-Nr.: 68380
Donor: Ford Motor Company, Detroit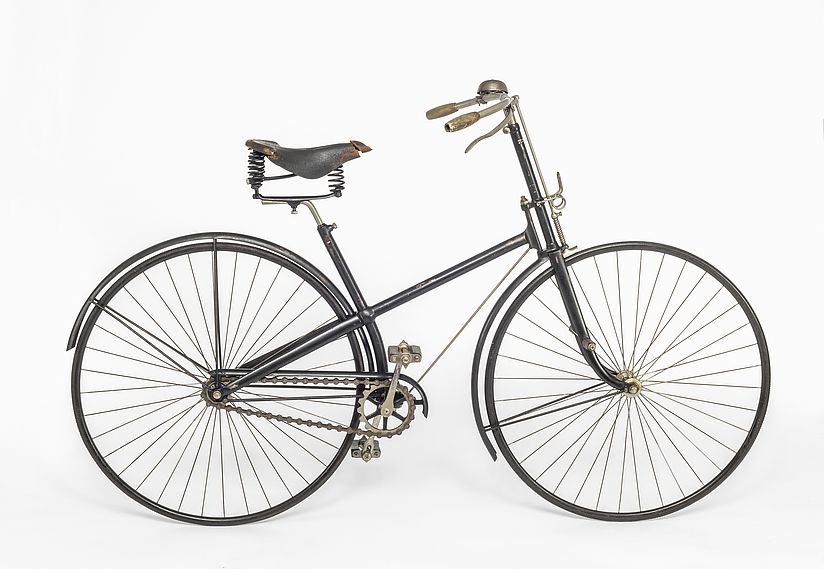 Adler "Kreuzrahmen-Rover"
Adler-Fahrradwerke, Frankfurt a. M., 1887
This "cross-frame rover" came onto the market in 1887 and was the first safety bicycle manufactured by Adler-Werke, which was one of the largest high-wheel manufacturers in Germany. The bicycle was a licensed product of the English company Starley & Sutton Co. from Coventry, which heavily influenced bicycle construction in the 1880s with its safety bicycles. Around 1880, several designers tried to develop an alternative to the high wheel.
Starley & Sutton achieved a breakthrough in 1884. The outstanding features of their "Rover" were equal-sized wheels, the chain drive of the rear wheel and a frame with a saddle just in front of the rear wheel. The safety bicycle was safer and easier to handle than the high-wheel. Initially, penny-farthing cyclists ridiculed low bikes as "creepers" and as bicycles for the timid and nervous. A spectacular success in a race arranged by Starley & Sutton helped to place the safety bikes on the market as competitors to the penny-farthings.
Megola Sport
Deutsche Megola Werke GmbH, München, 1922
The hallmark of the Megola is the 5-cylinder rotary engine mounted on the front wheel. Megola stood for Hans Meixner, Fritz Gockerell and Otto Landgraf, the owners of the manufacturing company.
The low arrangement of the engine in the front wheel increased comfort and driving stability: an early advertising brochure described the vehicle as a "two-wheeled car". The side-controlled, gearless and clutchless engine was considered very elastic and fast (109 km/h). Although intended as a racing and touring motorbike, Megola was unrideable in everyday road traffic without clutch, gearbox and starter. Because the designers refused to change the concept, the company went bankrupt after only four years of production.
Megola's design is still captivating today. Their technology was innovative, but not sufficiently geared to the requirements of the users.
Technical data
Engine: air cooled 5-cylinder rotary engine
Displacement: 650cm3
Weight: 123.5kg
Power: 10kW (14hp)
Top speed: 109km/h
Inv.-Nr.: 068386
Donors: Franz Hrabowski und Christian Christophe, Berlin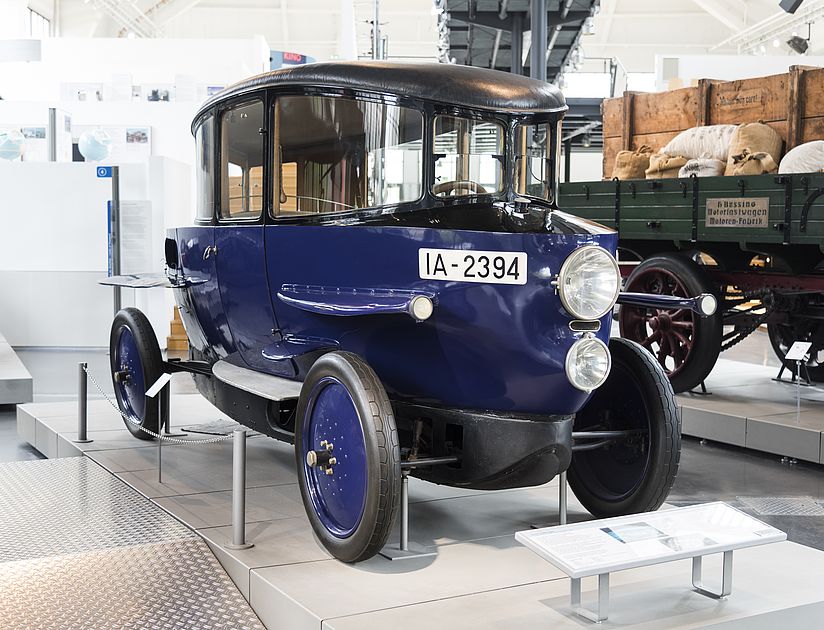 Rumpler Tropfenwagen
Rumpler-Motoren-Gesellschaft mbH, Berlin, 1922
The aircraft designer Edmund Rumpler developed an innovative car in 1921. The car was designed like an aeroplane according to aerodynamic principles. The shape of the body was supposed to resemble a drop of water in order to reduce dust formation and fuel consumption. The drag coefficient of the Tropfenwagen (CD=0.28) was lower than that of many of today's small cars (CD ca. 0.29).
But the Tropfenwagen ("drop car") was an economic failure. The engine ran unsteadily and it didn't have a boot. Its shape was too far away from the conventional ideas of vehicle design. The road conditions did not allow for high speeds, nor was necessary to conserve fuel yet. Aerodynamics was therefore not a selling point.
In the end, the Berlin film company UFA bought the last "drop cars". Models of them went up in flames in Fritz Lang's future film "Metropolis".
Technical data
Engine: 6-cylinder W-shaped internal, combustion engine
Displacement: 2580cm3
Power: 26kW (36hp)
Weight: approx. 1650kg
Top speed: approx. 105km/h
Inv.-Nr.: 055555
Donor: Edmund Rumpler, 1925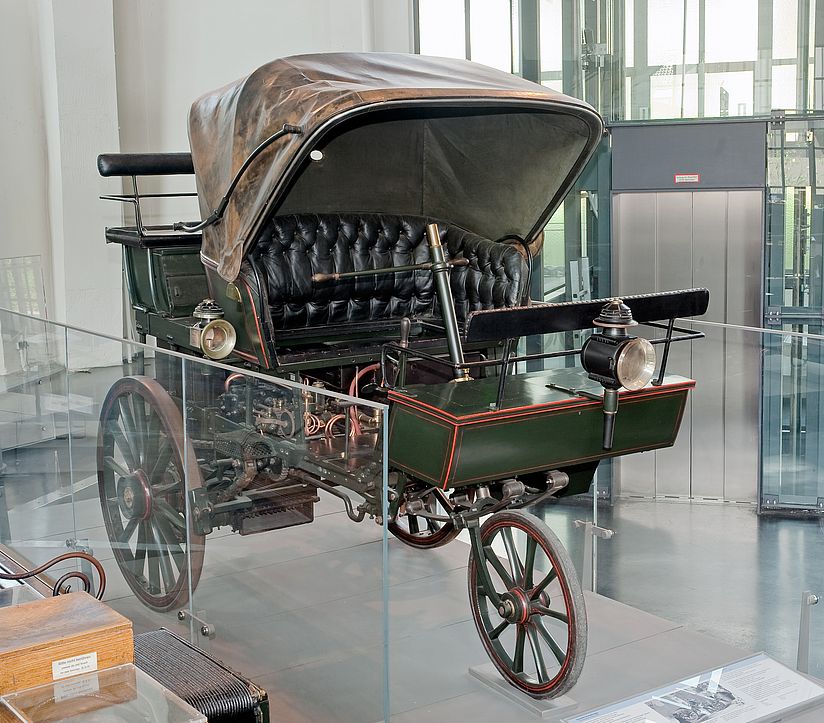 Serpollet Steam-powered Car
Léon Serpollet, Paris, 1891
This three-wheel vehicle with a coke-fired steam boiler was among the first steam cars sold by Léon Serpollet. The use of steam power in small road vehicles went hand-in-hand with the development of small and lightweight high-performance steam generators. In 1887, Serpollet succeeded in developing a flash boiler that could produce superheated, high-pressure steam in a very short time by feeding small amounts of water into very hot tubes. The steam boiler produced only as much steam at a time as was needed for the subsequent piston stroke. This eliminated the need for an unsafe "reservoir storage" in the boiler, which protected this type of steam power from boiler explosions and made it more suitable for smaller road vehicles for everyday use. Serpollet steam cars were considered smooth-running and could compete with the petrol cars of the time in terms of speed. Yet it took some time to prepare the car for driving. And with the small supplies of water and fuel that could be carried in a small car, it was suitable only for short and medium range.
Technical data
Drive: two-cylinder steam engine
Power: 3kW (4hp)
Weight: 1550kg
Speed: 16km/h
Inv.-Nr.: 012421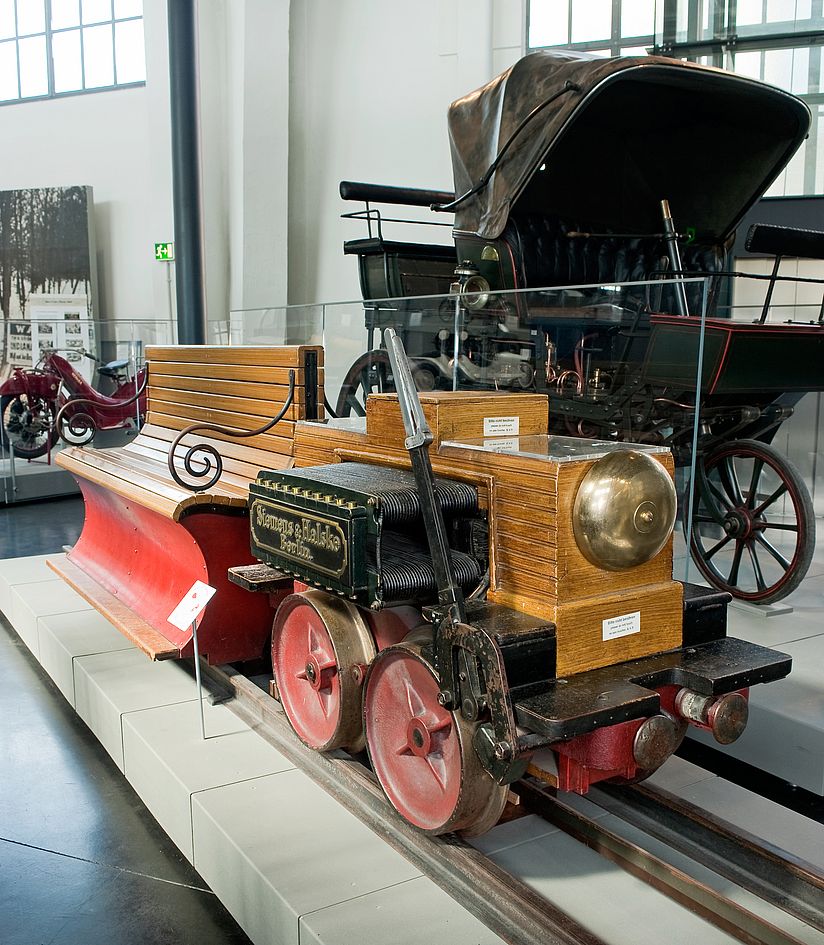 Siemens Locomotive
Siemens & Halske, Wernerwerk, Berlin,1879
The world's first electric locomotive, built by Werner Siemens in 1879, consisted of an undercarriage with a direct current motor. The "engine driver" sat astride the engine. The machine was built in 1879 for a demonstration at the Berlin Industrial Exposition. Werner Siemens' concept of using the conductor rails and pantographs for power supply was groundbreaking. This meant that the electric locomotive could be used for transport. The first electric locomotives were battery-powered, which limited their range and performance.
Electric locomotives are powerful, but they need power stations, power lines and overhead lines to run. Initially, electric drive was used for trams. Mines used smokeless electric locomotives as well. Due to their high efficiency, electric locomotives replaced steam locomotives throughout Europe from 1950 onwards.
Technical data
Power system: direct current 120 to 150 V
Power: 2.2 kW
Tractive force: 75 kN (3 cars with 6 persons each)
Weight: 954 kg
Maximum speed: 7 km/h
Inv.-Nr.: 3720
Locomotive replica by: Deutsche Bundesbahn, AW. München-Freimann, 1979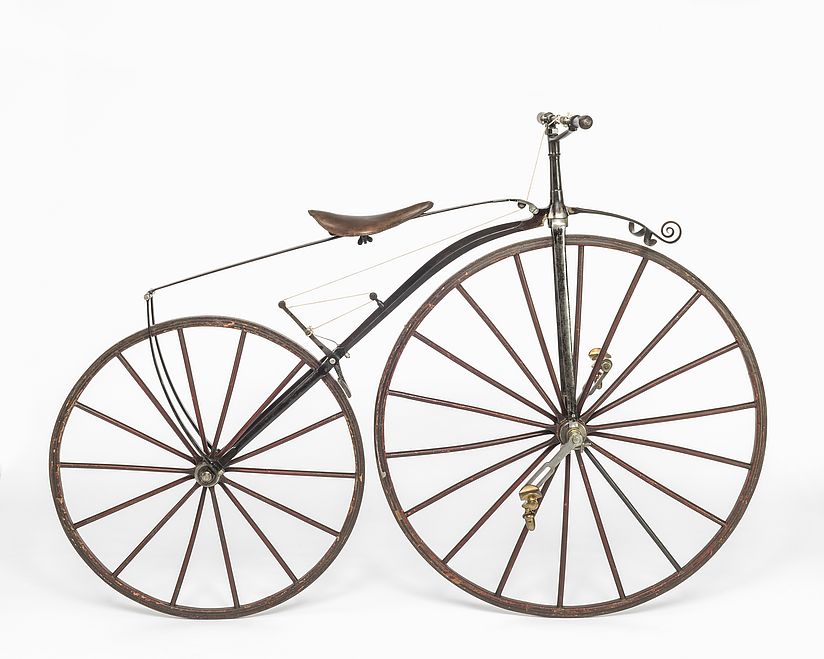 Vélocipède
La Compagnie Parisienne des Vélocipède, Paris, 1871
Michaux's "Vélocipèdes" (French for "fast feet") were the first mass-produced two-wheelers.
In the 1860s, the coachbuilder Pierre Michaux and the mechanic Pierre Lallement succeeded in developing the two-wheeler into a widely produced bicycle. Their success was based, among other things, on the addition of a pedal crank to the front axle, which was applied to the two-wheeler for the first time around 1863. It is still disputed today whether Michaux's son Ernest or rather Pierre Lallement came up with the original idea.
The frame of the velocipede was made of forged iron and equipped with a saddle, the wheels were made of wood with iron fittings.
In 1868, Pierre Michaux and the Olivier brothers founded the company Michaux & Co. which later became the Compagnie Parisienne. Their production soon amounted to 12 bicycles per day.
They achieved worldwide fame through the Paris World Fair in 1867. The buyers were mostly wealthy sports enthusiasts from the aristocracy and bourgeoisie, including prominent personalities who soon helped cycling achieve great popularity.
Inv.-Nr.: 35381
Donor: Kgl. Württembergisches Landes Gewerbemuseum