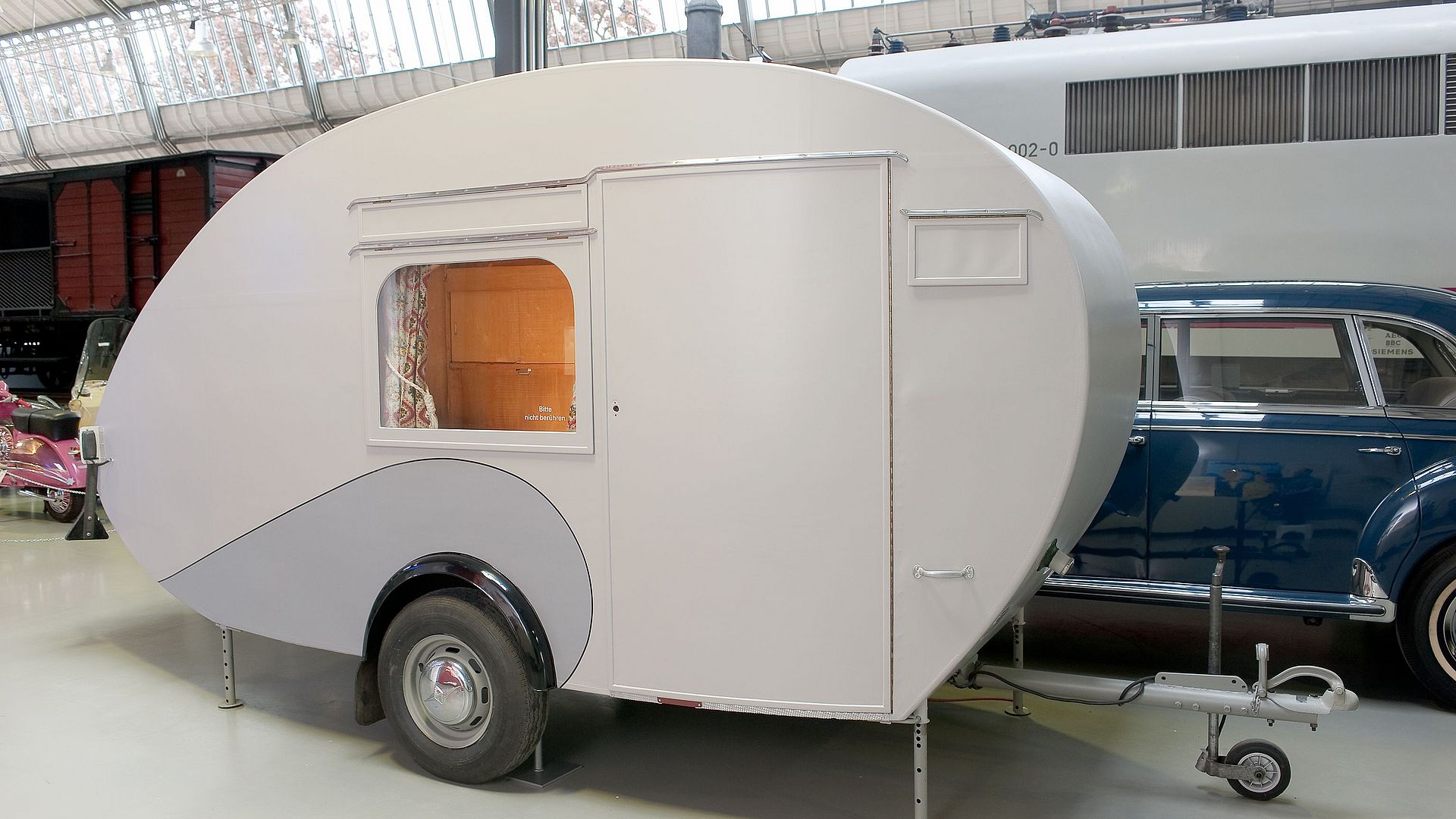 Our Highlights
Special Objects – Travel Exhibiton
Motor Tricycle, coach with panoramic windows or Horse-drawn Carriage "Hannibal". Find out more about our special objects in the Travel exhibition.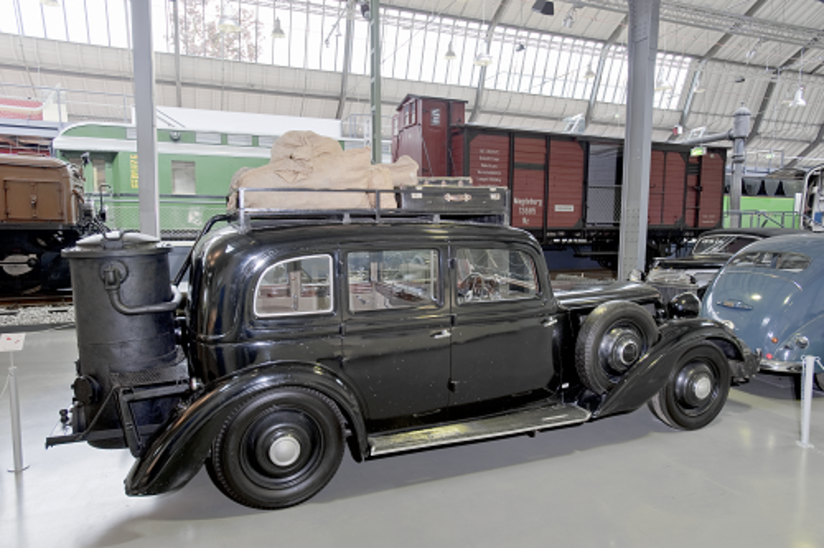 Adler Diplomat 3 GS with a Wood Gas Generator
Adlerwerke vorm. Heinrich Kleyer, Frankfurt a. M., 1938

This six-seater Adler limousine with Pullman bodywork from Karmann and six-cylinder engine was converted to run on wood gas in 1941 with a wood gas generator from Imbert. The use of private motor vehicles was restricted after the outbreak of the war, as petrol was scarce and what little was available was requisitioned for the military. As a substitute fuel for petrol, many vehicles ran on wood gas, which was extracted in wood gas generators while driving. Wood gas systems had already been tested during the First World War. However, the engines never achieved the performance and quality of gasoline powered engines.
Wood gas generators carbonise wood at low temperatures to produce charcoal. The resulting gas contains combustible carbon monoxide and hydrogen. The gas enters the combustion chamber by way of a pre-cleaner, a separator, a gas cooler, a post-cleaner and a gas-air mixer. In 1942 the vehicle needed about 2.5-3.5kg of wood instead of 1kg of petrol. The heavy weight of the system and the wood further reduced the efficiency. The wood also had to be reloaded at "wood filling stations" at shorter distances (50-100km).
Technical data
Engine: 6-cylinder four-stroke in-line engine
Displacement: 2914cm³
Power: 44kW (60hp) at 3000rpm (petrol-powered), 26kW (36hp) (gas-powered)
Top speed: 100km/h (petrol), 70km/h (gas)
Inv.-Nr.: 1984-601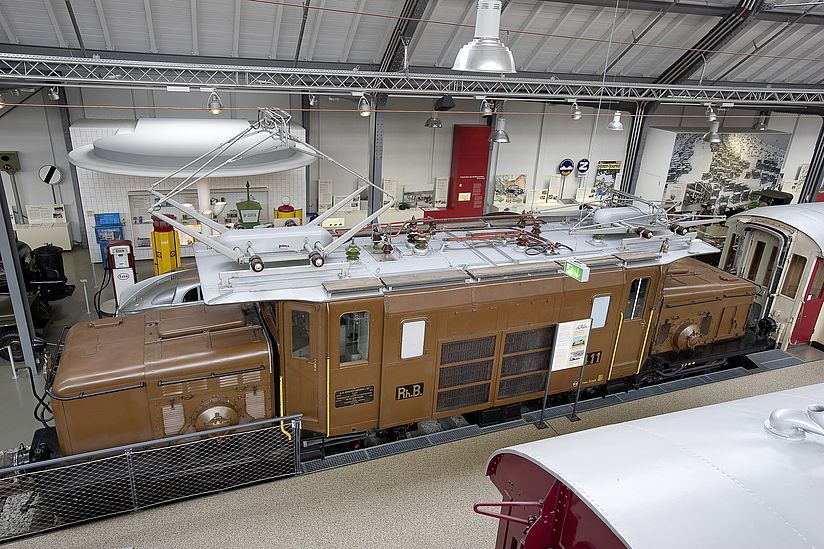 Ge 6/6 'Crocodile' 411 of the Rhaetian Railway
SLM, Winterthur; BBC, Baden; Oerlikon, Zürich, 1925
In December 1919, the Rhaetian Railway ordered six electric narrow-gauge locomotives due to the initiated electrification of the lines, and soon after another nine locomotives. The specifications required that the locomotive be able to haul a 200t load at 30km/h up a 3.5 percent gradient. This required a 1200hp engine with a maximum axle load of 11 t. Locomotive 411 was put into service on 26 October 1925.
The Rhaetian Railway thus had 15 powerful, manoeuvrable and very reliable locomotives, which typified train travel in Graubünden for a long time. It was not until 1973 that the Ge 6/6 was replaced by a new and faster express locomotive, but it continued to haul regional and freight trains. In 2000, the 411 was decommissioned after 75 years of service and approximately 4.5 million kilometres of mileage and was transferred to the Deutsches Museum in Munich on 14 June 2001.
Technical data
One-hour rating: 2x450kW (equivalent to ca. 1200hp)
Continuous rating: 2 x 365 kW (equivalent to ca. 1000hp)
Weight: 65.7t
Max. Starting tractive power: 15.5t
Maximum speed: 45km/h until 1937, afterwards 55 km/h
Brakes: Electric dynamic brake, vacuum brake
SLM, Winterthur; BBC, Baden; Oerlikon, Zurich; 1925
Inv.-Nr.: 2001-1221
Donation: Rhätische Bahn, Chur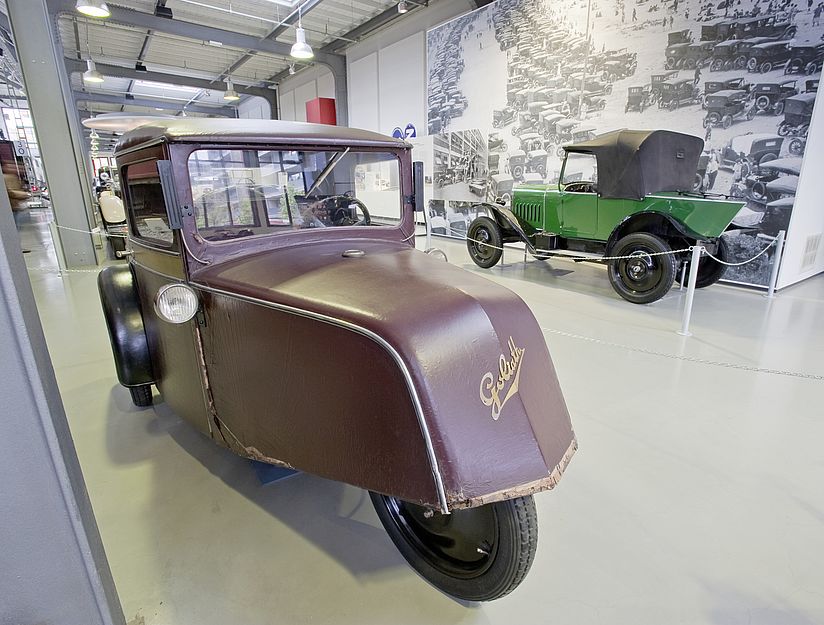 Goliath Pionier
Goliath-Werke Borgward & Tecklenborg, Bremen, 1931
Carl Borgward began producing three-wheeled small cars for commercial purposes in 1924. During the Great Depression, he developed a small passenger car based on this design called the "Goliath Pionier".
The modest two-seater microcar with a one-cylinder engine and synthetic leather-covered wooden body was one of the German "cycle cars" and promised automobility for small people. With only three wheels, a kerb weight of less than 350 kg and an engine capacity of only 198 cm³, it was exempt from compulsory driving licences and taxes and making it an ideal entry-level vehicle. The Goliath Pioier was even available in different versions. With an emergency seat in the rear, it could carry a small family.
Although the car was available for less than 1500RM and was advertised as the "cheapest limousine in the world", it was not a success during the economic crisis of the early 1930s. Only 4000 units were produced.
Technical data
Engine: One-cylinder two-stroke engine
Displacement: 198cm³
Power: 4.1 kW(5.5hp)
Top speed: 45km/h
Inv.-Nr.: 1993-63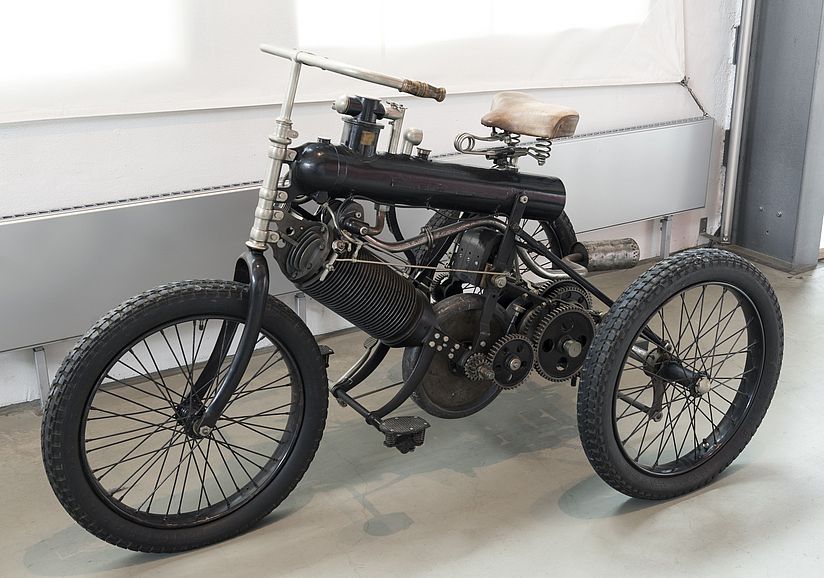 Heinle & Wegelin Motor Tricycle
Motorfahrzeugwerke Heinle & Wegelin, Oberhausen/Augsburg, 1899
One of the pioneers of motorbike construction in Bavaria was the company Heinle & Wegelin. Based on a design by Oskar Blessing and Ludwig Rüb, a former employee of the Munich company Hildebrand & Wolfmüller, the company began manufacturing motor tricycles in 1896.
A new feature of the design was the chainless drive incorporating a cardan shaft and a sophisticated gearing mechanism. The diagonally mounted engine also assumed a supporting function as part of the frame. At first it was difficult to find an ignition system that worked well even at higher speeds. After 1897, Heinle & Wegelin used Bosch's snap-off ignitions for high-speed engines.
Hugo Wegelin also successfully participated in racing events on his company's motor tricycles. The company's long-term policy was less successful. At the end of 1900 Heinle & Wegelin went bankrupt. Their production methods were still not very profitable.
Technical data
Engine: one-cylinder four-stroke engine, air-cooled
Displacement: 1595cm³
Power: 1.47 kW(2hp)
Speed: 40km/h
Inv.-Nr.: 66341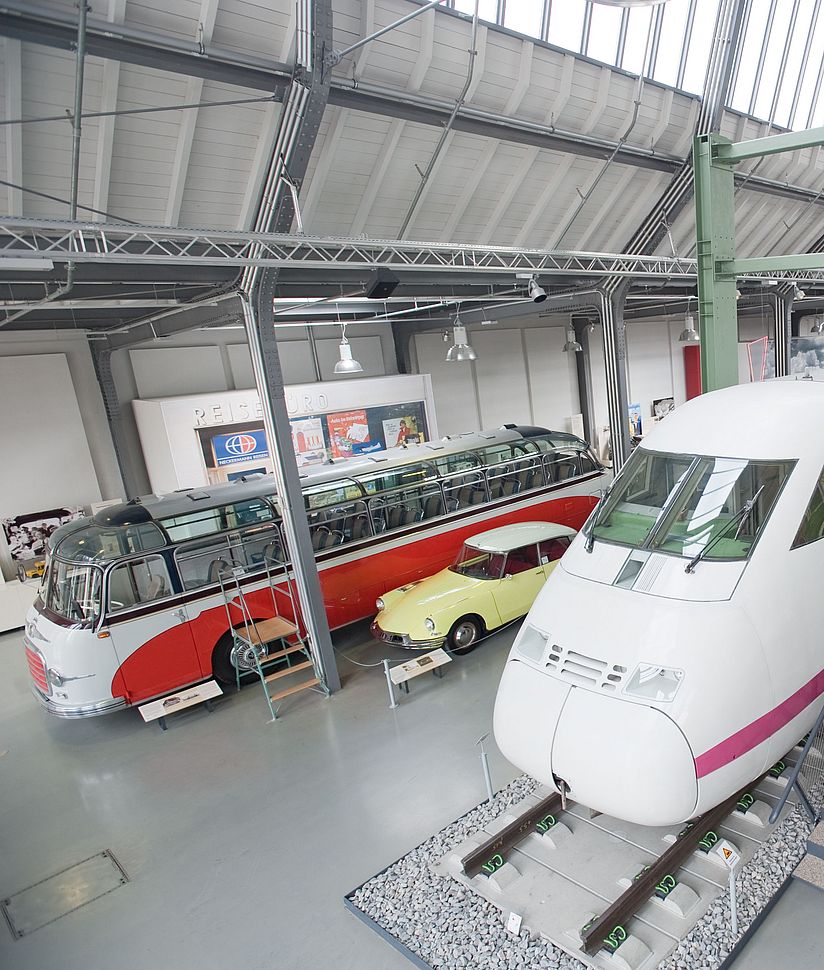 ICE V
As part of the wheel/rail research programme, an experimental train was developed by the Deutsche Bundesbahn together with partners from the railway industry from 1982 onwards. The result was a train with two power cars and three coaches. It was delivered as class 410/810 on 31 July 1985 and was initially named ICE (Inter-City-Experimental).
With this train, the German railway explored the technical and economic limits of the wheel-rail system and thus created the conditions for high-speed traffic. An important contribution was the aerodynamic tests, the results of which defined the streamlined profile of today's ICE.
The ICE-V also carried out all the test runs required for the approval of the new routes between Hanover - Würzburg, Mannheim - Stuttgart and Hanover - Berlin. On 1 June 1998, the ICE-V was taken out of service after 13 years of experimental operation and 500 000 km of running performance.
Technical data
Drive: 4 three-phase induction motors per powerhead
Power: 4x1050 kW per powerhead
Total power: 8400kW (ca. 11,400 hp)
Maximum speed: 350km/h
Train weight: 296t
Train length: 113m
Inv.-Nr.: L2007-6
On loan from: DB Museum, Nürnberg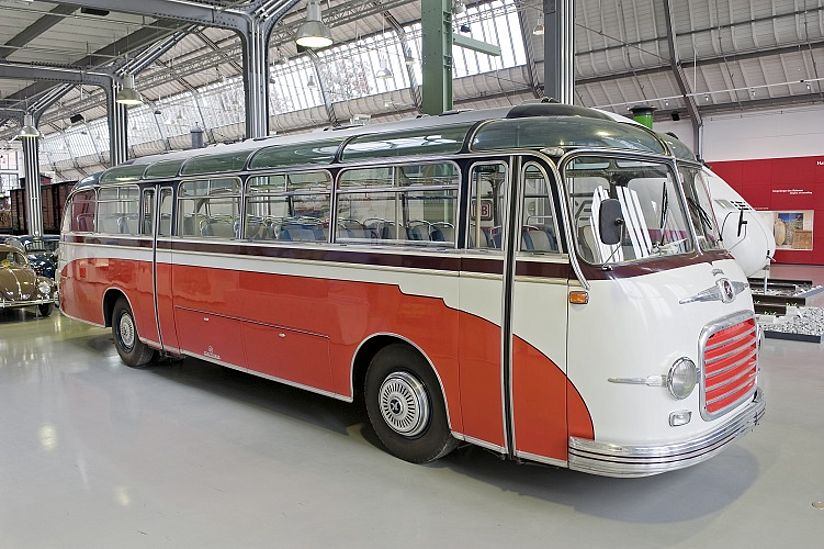 Kässbohrer Setra S11
Kässbohrer Fahrzeugwerke GmbH, Ulm, 1959
This coach with panoramic windows was manufactured by the Kässbohrer company, which in 1951 was the first commercial bus and coach builder to develop a self-supporting (Setra=selbst tragend) body.
The post-war years in bus construction were characterised by a spirit of optimism and experimentation. In the concept of a self-supporting body, there is no longer a separate chassis frame with superstructures, but rather the integral construction assumes supporting functions. This lightweight design quickly became established in bus construction, partly because it made bus coach manufacturers like Kässbohrer, Auwärter or Deutz less dependent on chasses supplied by large manufacturers, such as Daimler.
The roof glazing for the "panoramic view" was typical for coaches of the 1950s, but caused the interior to heat up. Coach travel was a comparatively inexpensive and popular form of motor travel during the German "economic miracle", especially since most Germans did not yet own a car.
Technical data
Engine: Six-cylinder diesel
Displacement: 6126cm³
Power: 92kW (125hp)
Inv.-Nr.: 1997-234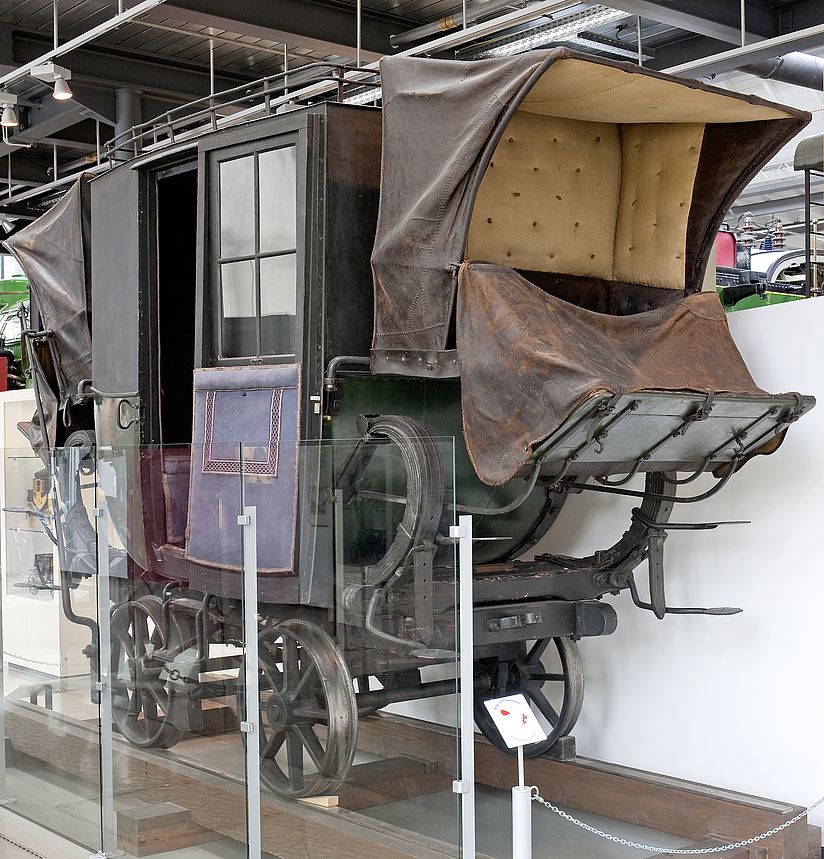 The Horse-drawn Carriage "Hannibal" of the Linz-Budweis Railway
Nachbau, Maschinen- und Wagenbau Fabris A.G., Simmering, 1920
The "Hannibal" carriage, which could seat up to 11 people, travelled on the first continental horse-drawn railway from Linz to Budweis. It began passenger service in 1832.
Horse-drawn railway carriages were the technical-historical link between the road coach and the railway compartment carriage. The "Hannibal" carriage had self-steering axles for travel on very narrow track radii. For this purpose, the wheelsets mounted on pivot plates were connected diagonally to steering rods. The coach body, on the other hand, was similar to that of large mail wagons. Coach boxes on both sides enabled bi-directional operation. The original "Hannibal" was built in 1841 by the Erste Eisenbahn Gesellschaft in Urfahr.
Horse-drawn carriage did not make travel faster, but it was much more comfortable and safer than travel by road, as the railway tracks were less bumpy. As a 2nd class vehicle, the "Hannibal" carriage already offered a high level of comfort and a new travel experience, which soon made the railway a popular means of travel.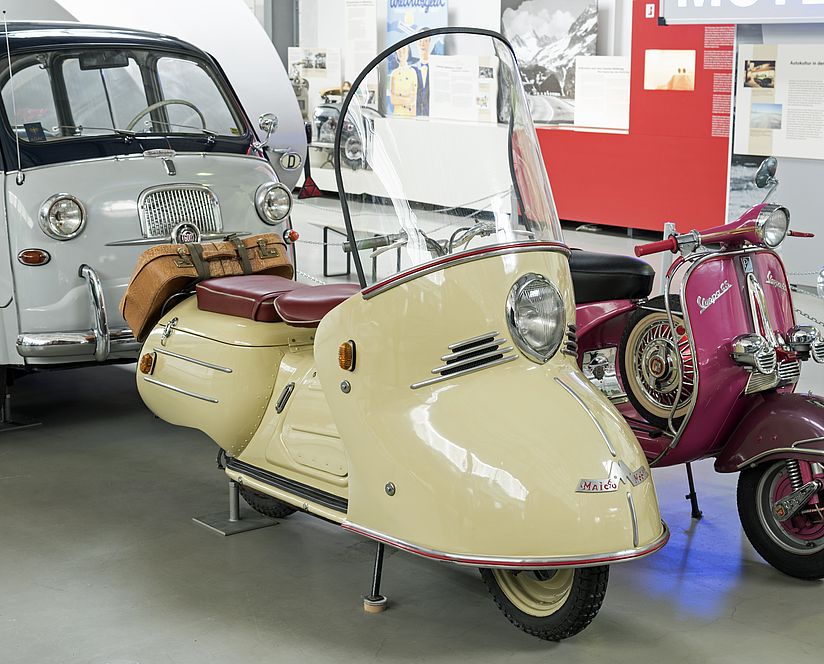 Maico Mobil 175
Maico-Werke, Pfäffingen-Tübingen, 1953.
The "Maico Mobil" was a typical travel scooter, which the manufacturer marketed as a "two-wheeled car", combining the driving comfort of a car with the mobility of a motorbike.
In 1951, the small Swabian manufacturer presented a scooter whose concept was quite different from that of the Vespa or the Lambretta. The more powerful vehicle was to offer the rider comfort, riding safety, speed and weather protection. It had luggage compartments to the left and right of the rear wheel, luggage racks, a windshield and two seats. The covered body was based on a molded light-alloy tubular frame. The four-speed change gearbox was operated by foot.
Although expert groups gave the Maico Mobil a good rating, the relatively heavy vehicle could only achieve belowaverage sales. As a travel vehicle, however, it was very popular.
Technical data
Engine: single-cylinder two-stroke engine
Displacement: 174cm³
Power: 6.6kW (9hp) at 5300 rpm
Top speed: approx. 85km/h
Inv.-Nr.: 1995-96
Donation: Oskar Wilde
Steam-propelled Cogwheel Car No. 10 of the Pilatusbahn
With cable cars and rack railways, tourists and day trippers ascended to the solitude of the mountains at the end of the 19th century. Switzerland's Mount Rigi was the first mountain to receive a mountain railway in 1875. Following its success, the next challenge was to build a mountain railway capable of scaling the precipitous and legendary Mount Pilatus. The steep incline of the preferred route presented a particular technical challenge.

To meet the challenge, Eduard Locher developed a rack-and-pinion system in 1888. Thanks to the horizontal arrangement of his herringbone gear and the horizontal meshing of opposed cogwheels, a gradient of 48% was feasible.
On 4 June 1889, the first regular train steamed to the summit of Mount Pilatus. It took 70 to 80 minutes to cover the 4.3 km distance. By 1895, 40,000 visitors were travelling up Mount Pilatus by cogwheel railway. Eight steam-powered railcars traveled up the mountain three to four times a day at a speed of 4.4 km/h. In 1937, the railway switched to electric railcars, which could carry more passengers in less time with fewer personnel. Today, over 250,000 visitors a year take the world's steepest cogwheel railway up to Mount Pilatus for a view of the Swiss Alps.
Technical data
Power: 54kW (73hp)
Maximum speed: 4.3km/h
Gradient: max. 48%
Track width: 800mm
Unladen weight: 7.6t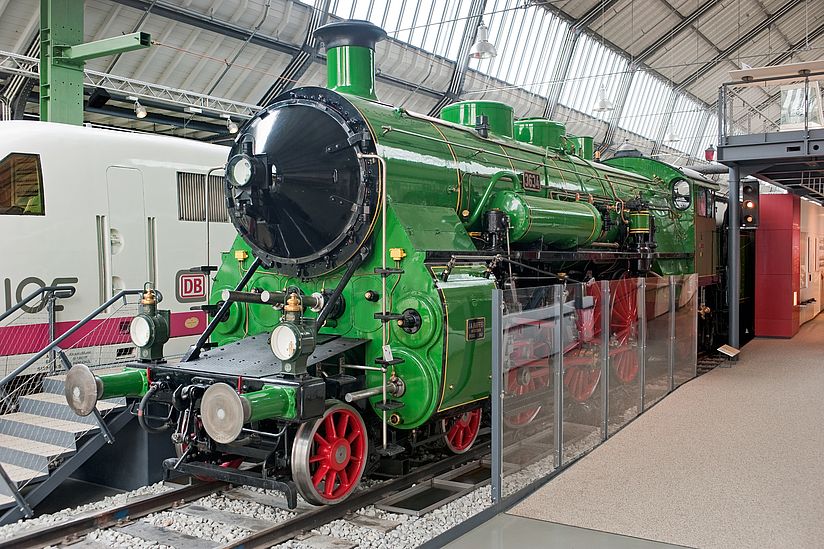 Express Passenger Locomotive Class S 3/6
Due to its elegance, the S 3/6 is considered the most beautiful express locomotive of the age of the German State Railways. Produced between 1908 and 1931, the four-cylinder compound engine was distinguished by its very smooth running. In its heyday it was used as the traction engine of the famous luxury train "Rheingold Express", which ran between Hoek van Holland and Basel, Switzerland from 1928.
The exhibited S 3/6 3634 of the Bavarian State Railways is the only surviving one of 18 locomotives of the "d" and "e" series, which have an increased driving wheel diameter from 1870 to 2000mm. They proved to be reliable particularly on express routes, which were run without intermediate stops and required a speed of 90 to 100 km/h. In 1951, the locomotive 18451, as it was called after the introduction of the numbering scheme of the Deutsche Reichsbahn, set a long-distance record. It covered the 820 km distance between Hamburg and Munich at a top speed of 125 km /h without the usual firing out. When it was decommissioned in 1954, it had covered 2.5 million kilometres in its 42 years of service.

Technical data
Power: 1770 hp
Mass: 89500 kg
Maximum speed: 120 km/h
J.A. Maffei, München, 1912
Inv.-Nr. 74697
Donation: Deutsche Bundesbahn, München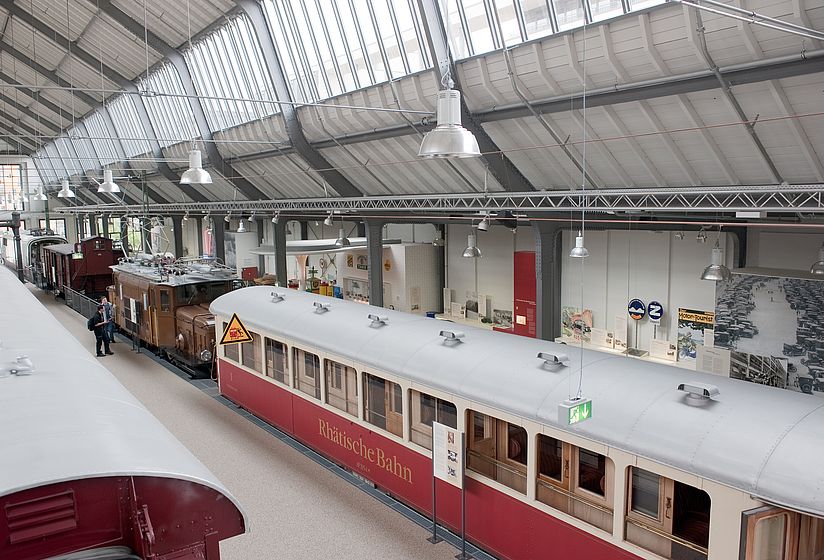 Pullman Car As 1154
Schweizerische Industrie-Gesellschaft, Neuhausen, 1930
The 1st class pullman car of the Rhaetian Railway was acquired iduring the prime of the great express trains and initially ran as part of the Engadin Express between Chur and St. Moritz, which was the extension of the legendary Orient Express.
Graubünden, the largest canton in Switzerland, is characterised by a high alpine mountain world, spectacular gorges, waterfalls and quiet mountain lakes. Since the end of the 19th century, this fascinating landscape has been made accessible in large parts by the Rhaetian Railway on winter-safe railway lines. The construction of the lines was completed in 1914.
However, the routing of the lines with a total length of 375 km, 118 tunnels and 487 bridges required tight radius in curves and extreme gradients of up to 4.5 per cent. The railway engineers could only realise this engineering marvel as a narrow gauge with a track width of only one metre. Soon, the upper classes from around the world, eager to travel, discovered not only the glamorous spa and holiday resorts of the Graubünden mountains, but also with them the appeal and charm of a train ride aboard luxurious coaches through the breathtakingly beautiful landscape.
This pullman car 54 was restored for nostalgia trips in 1986, thanks to its good overall condition, and is today the only historic side-corridor carriage still maintained by the Rhaetian Railway.
Inv.-Nr.: L 2001-7
On loan from: Rhätische Bahn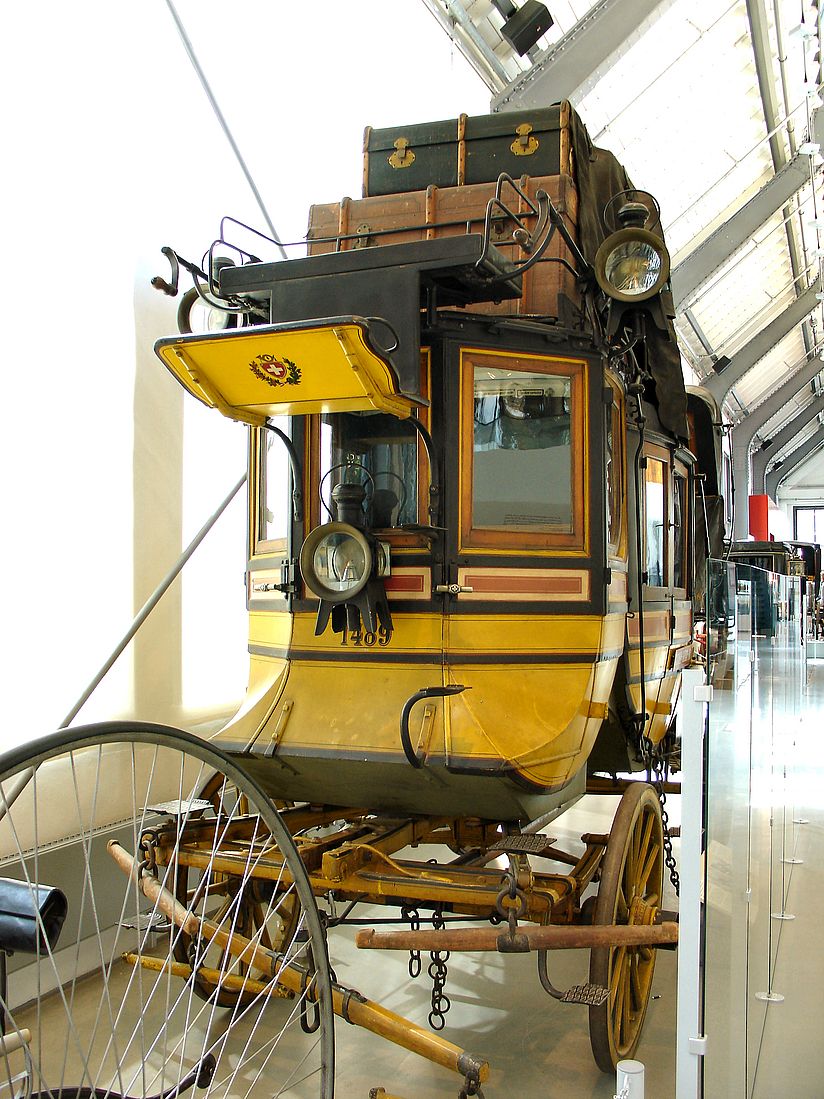 Mail Coach used by the Swiss Alpine Post
Leisi & Moser, Bern 1895
This eight-seater mail coach ran on the route between Brig and Göschenen in the Swiss Alps until 1915. Alongside the railway, carriages still served an important function in regional transport in the early 20th century, both privately and publicly.
Like other mail coaches, the box body of the mail coach combined several wagon types: a two-seater coupé with a coach box in front above the front axle, a four-seater Landau-type compartment box between the axles and behind it the so-called banquette and a two-seater box with a weather cover.
The carriage was drawn by five horses, yet it could only reach a cruising speed of about 10-12 km/h.
The mighty chassis had a single-pivot steering and iron axles. The body rested on semi-elliptic springs. The outward inclination of the wheels prevented them from running off the hub and made it easier to drive out of hard ruts. The vehicle, which weighed 1450kg unladen, was stopped using block brakes and chock blocks.
Inv.-Nr.: 65870
Donation: Schweizerische Post-, Telegraphen- und Telephonverwaltung, Bern