Cold war military aircraft
Panavia Tornado IDS/Recce
The Tornado is a fighter bomber and reconnaissance aircraft in service with the German Air Force.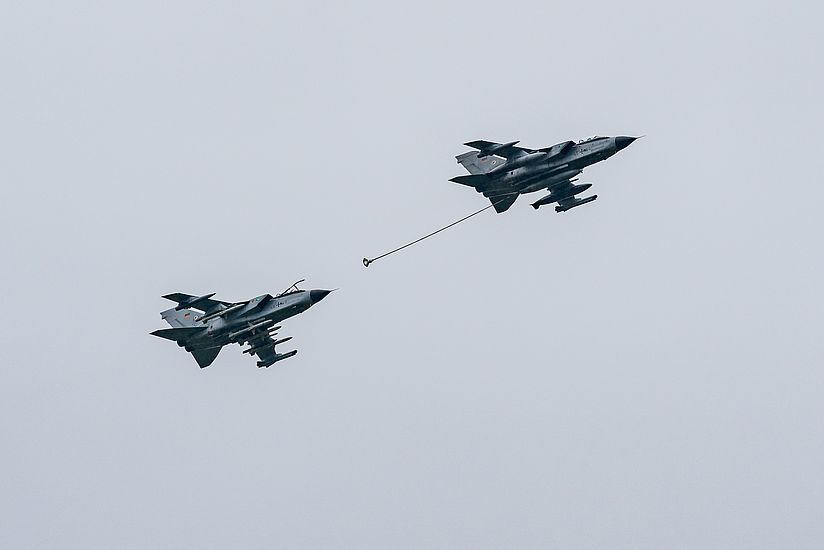 The Tornado was constructed during the era of the Cold war as the successor to the F-104 G Starfighter. Defining characteristics were its variable-sweep wing design and thrust reverse for short take-offs and landings, and low-altitude operational capability. The Tornado was developed and manufactured jointly by the three European countries Germany, the UK and Italy, which ordered 977 aircraft. The Kingdom of Saudi Arabia ordered 72.The Tornado era began in 1979. Key events over its operational lifetime were the Cold War and its conclusion, missions in the Kosovo conflict and the war in Afghanistan. As the Eurofighter is phased in, the German Air Force is reducing its fleet of Tornados from 359 at present to 85 in 2015.
The Tornado on display was built in 1985 and decommissioned in 2008 after reaching its operational lifetime of 4,000 flying hours. In the end it was flown by the AG 51 reconnaissance squadron in Jagel (Schleswig-Holstein). Its final mission was from 2007 until 2008 with the "Einsatzgeschwader Mazar-e Sharif" in Afghanistan that carried out reconnaissance flights from 2006 until 2010 as part of the International Security Assistance Force (ISAF).
On October 28, 2008, the plane made its last flight from Jagel to the Erding air force base. From there it was transported by road to the museum in July 2010.
Technical specifications:
Manufacturer: Panavia GmbH (BAE Systems; MBB – now Airbus; Aeritalia – now Alenia), Hallbergmoos, Germany, 1985
Wingspan: 8.6 m at 67° wing position, 13.9 m at 25° wing position
Empty weight: 14,500 kg
Maximum take-off weight: 28,500 kg
Maximum speed: Mach 2.2 at high altitude with no external loads, Mach 2.2 at high altitude with no external loads
Power plant: 2 x RB 199 Mk101 jet engines
Thrust: 2 x 40.5 kN without afterburner, 2 x 73.0 kN with afterburner