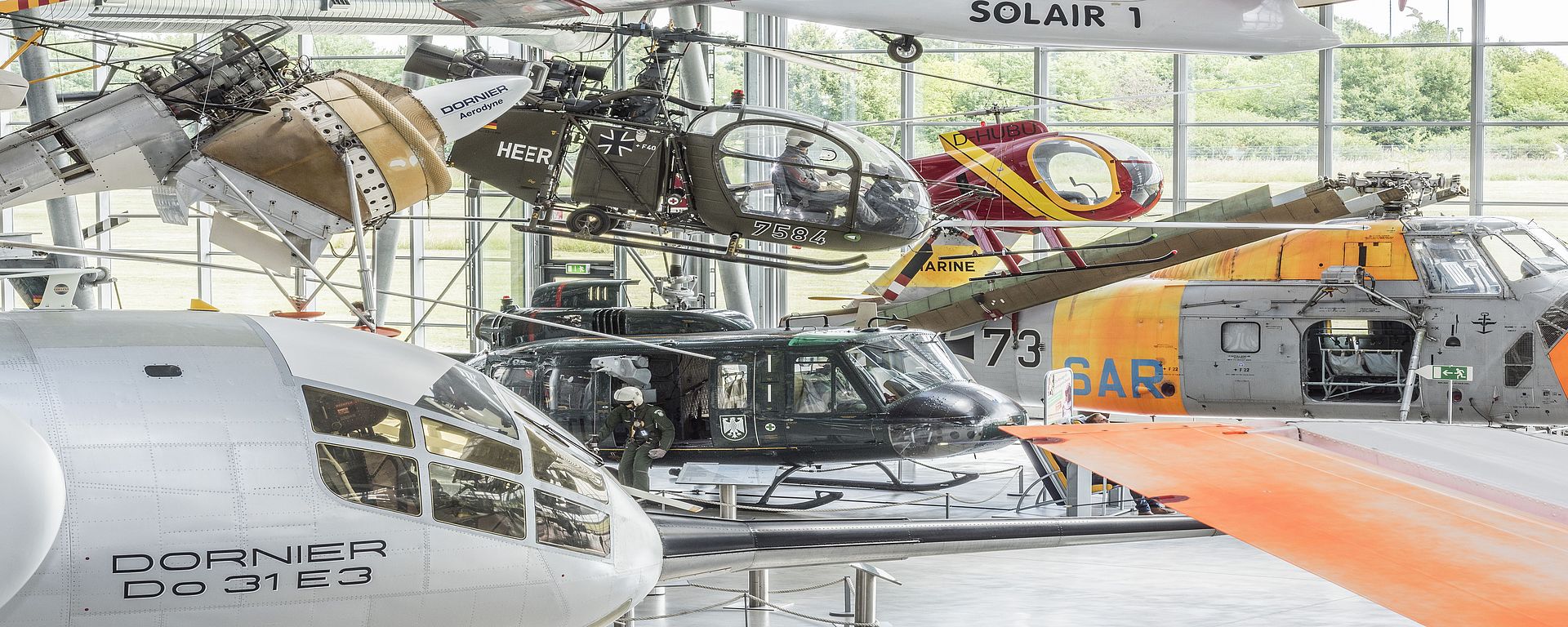 Helicopters and Vertical Take-Off and Landing Aircraft
Helicopters and vertical take-off aircraft are characterised by their ability to hover in the air and to take off and land without the use of runways.
Helicopters
The first functional helicopters were developed by Henrich Focke in Germany in the 1930s and Igor Sikorsky in the USA in the 1940s. The various helicopter concepts did not become more commonplace until the 1950s, when the onset of the Vietnam War would create a strong military demand for such aircraft. Among the best-known helicopters of the 1950s and 1960s were the Sikorsky H-34 (S-58), which can be seen in Schleißheim in the guise as a rescue helicopter variant, and the Bell UH-1D, known as the most widely built aircraft of this type, and which would become an important weapon in the Vietnam War. The wide range of uses for vertical take-off and landing aircraft is also seen in the example of the Soviet Kamov Ka-26, which can be fitted with agricultural equipment.
Vertical Take-Off and Landing (VTOL) Aircraft
VTOL aircraft were seen as a forward-looking concept – particularly from a military perspective. They were expected to offer greater operational flexibility and availability than conventional aircraft. The idea was for them to operate from makeshift airfields. In the 1950s and 1960s attempts were made to combine the advantages of a helicopter with those of a fast jet aircraft to create the concept of so-called VTOL (Vertical Take Off and Landing) aircraft. Compared to helicopters, they were expected to have a much greater speed and range but with the same operational flexibility. Around 40 vertical take-off and landing programmes were launched worldwide, requiring enormous development costs and resources. In the Federal Republic of Germany, three very ambitious military vertical take-off aircraft projects were of particular importance: the ground combat aircraft VAK 191 B, the combat zone transporter Dornier Do 31 E and the VJ 101 C supersonic jet fighter. None of these projects reached series production.