With more than 10,000 built, the Bell UH-1 is the most numerously produced helicopter type in the world.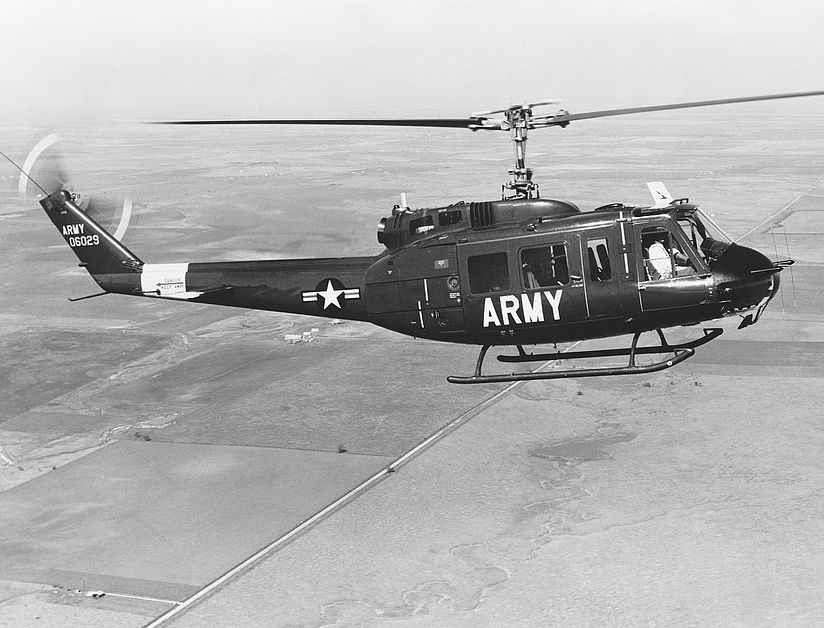 The Bell UH-1 were the workhorses of the helicopter fleet of the American forces and were later used for rescue and police work in many countries. The best-known theatre of action for the UH-1 was the Vietnam War, where it became a lasting memory for countless soldiers at the front.
The helicopter on display was operated in the immediate vicinity of the Flugwerft Schleissheim. The Bundesgrenzschutz (Federal Border Patrol), today Bundespolizei (Federal Police), stationed on the opposite side of the Schleissheim airfield, used it for border patrols, transport and medevac missions. Particularly noteworthy were the disaster relief operations in Ethiopia. The helicopter you see here flew 550 missions to fly relief goods to a drought zone. During its 30 years in operation it accumulated more than 7000 flying hours. It was taken out of service in 2000.
Technical specifications:
Manufacturer: under licence Dornier Luftfahrt GmbH, Oberpfaffenhofen, 1970
Fuselage length: 12.7 m
Rotor diameter: 14.6 m
Take-off weight: 4300 kg
Payload: 900 kg
Crew / passengers: 2/12
Cruising speed: 200 km/h
Ceiling: 10,000 m
Range: 1240 km
Power plant: Lycoming T 53-L13 turboshaft engine
Power rating: 1030 kW