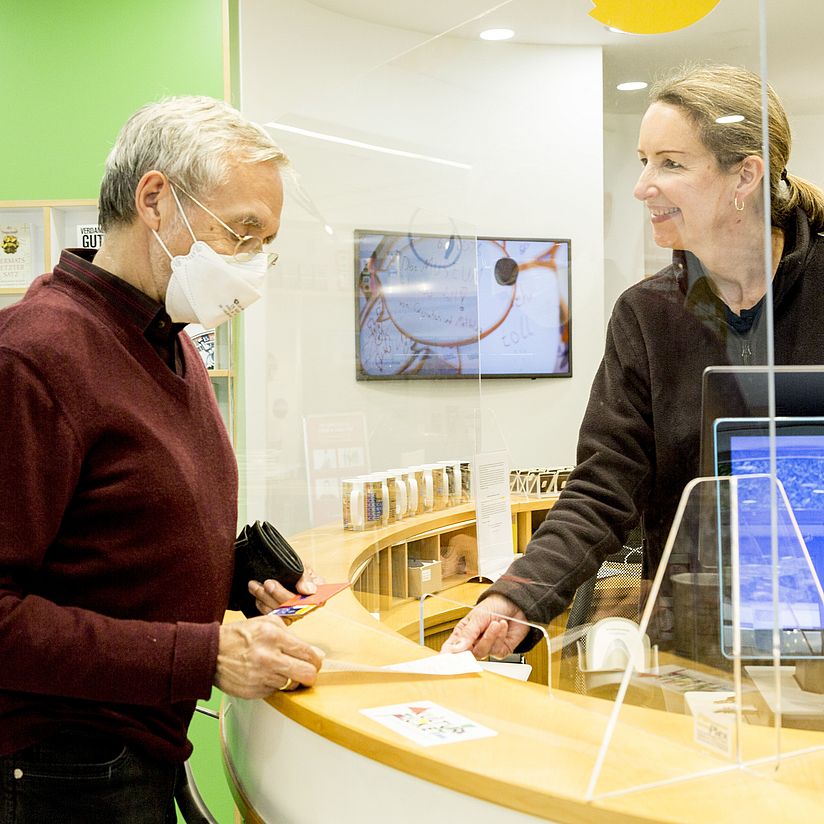 Tickets for the Deutsches Museum Bonn
Admission prices
Regular
Adults €9
Family ticket €20
The family ticket admits parents, partners, single parents or family members (up to 2 adults) with children of the family aged 17 or younger.
Concessions
Children and teenagers (aged 6 to 17) €5
School pupils, apprentices, students €5
Senior citizens (aged 65 or over or upon presentation of the pensioner ID card)
Disabled persons (no charge for a registered companion) €5
Recipients of unemployment benefit II €5
Participant in the Federal Volunteers Service, voluntary military service, voluntary social/ecological year €5
Holder of a Bonn Card €5
Family ticket with a Bonn card €10
Groups and accompanying persons
Groups of 10 or more (price per person) €5
Children under 6 in organised groups (price per child) €3
No charge for 2 persons accompanying children's groups, school classes, student groups or educational institutions
Free admission
Children aged 5 and under (apart from when participating in fee-based activities)
Teachers for preparing lessons (only with a confirmation from the school)
Members of the Deutsches Museum
Members of the ICOM (International Council of Museums)
Representatives of the press
German National Tourist Guide Association
Students of the University of Bonn within the framework of the Culture Ticket project
Members of WISSENschaf(f)t SPASS – Förderverein für Bildung und Innovation im Rheinland e.V. (association supporting education and innovation in the Rhineland).
Activities and workshops
Programmes for educational institutions €150, flat fee
Programmes for educational institutions from Bonn and the Rhein-Sieg-Kreis district €120, flat fee
Workshop (at least 5 children) €15 per child
Payment on invoice is possible for all bookings and for tickets.