Barrier-free access
Museum for all
Information for museum visitors with limited mobility
Access to the Deutsches Museum Bonn
The main entrance to the Deutsches Museum Bonn can only be reached via steps. The two levels in the museum are also connected by stairs.
However, barrier-free access is possible at any time!
As this requires the use of external lifts, you are requested to give us advance notice by calling Tel. 0228 / 302-255 or e-mailing info@deutsches-museum-bonn.de. Our staff will then accompany you on your barrier-free route into the museum. Please also contact our staff when moving between levels of the museum.
We really hope that we will be able to improve barrier-free access to and within the museum in the course of the realignment of the Deutsches Museum Bonn and the ongoing renovations.
Journey and service facilities
Journey and disabled parking spaces: you will find all the

information

here.
Visitor wheelchairs: a visitor wheelchair is available on every level of the museum.
Toilets for museum visitors with limited mobility are available.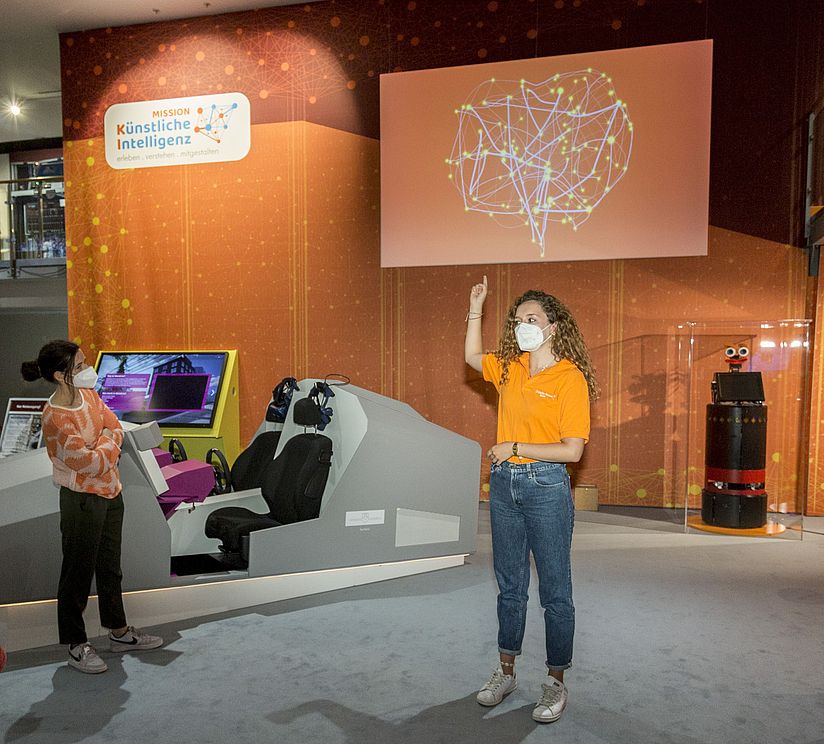 Museum experience for all
The museotainers are employees of the museum who can be recognised by their orange polo shirts. They are always available to assist the visitors, respond flexibly to disabilities and thus ensure that everyone enjoys an active museum experience. We also provide new digital communication channels with a voice assistant, for example.
Inclusive educational activities
Do you have questions about educational activities for people with disabilities?
We will always find a customised solution where possible!
Buchung Bonn

Deutsches Museum Bonn Buchung

Telephone +49 228 302 256
Email buchung@deutsches-museum-bonn.de

Buchung Dienstag bis Freitag zwischen 13.00 und 16.00 Uhr telefonisch erreichbar. Schriftliche Bestätigung für die Teilnahme notwendig. Anfragen und Anmeldungen per E-Mail werden bis Freitagnachmittag um 16.00 Uhr bearbeitet.