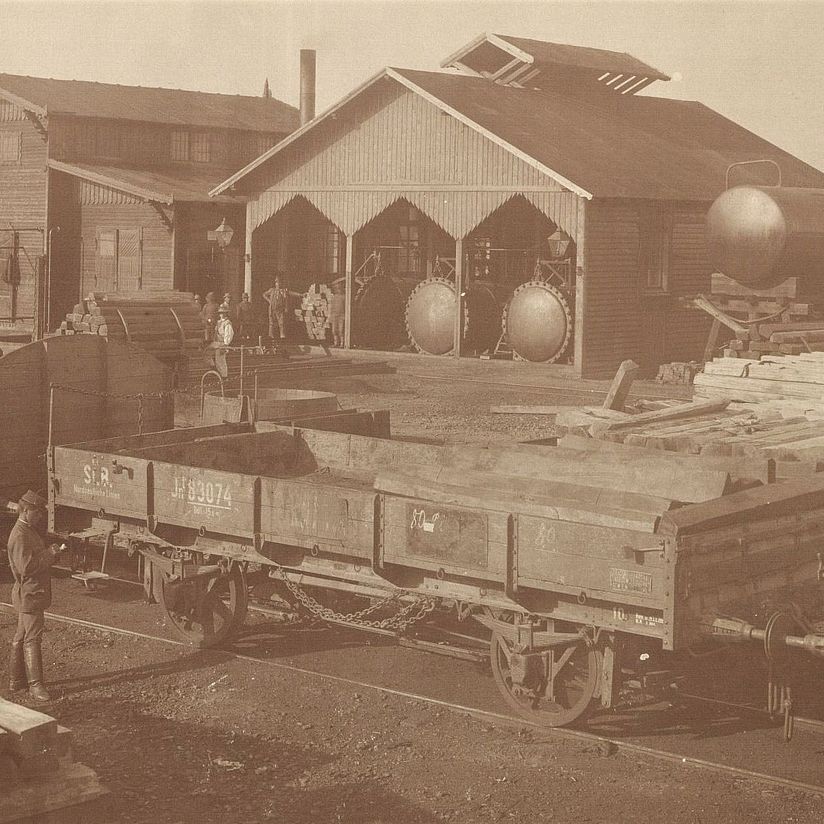 Environmental history
Cultures and Costs of Maintenance
Maintenance and repair are among the defining forms in which people interact with technology, and yet their historiography has clear gaps. With the help of material history, historical maintenance practices can be made visible, which were often accompanied by precarious working conditions and toxic materials. Their traces lead to current discussions about recycling, contaminated sites and environmental justice.
Cultures and Costs of Maintenance. The Rise of Creosote and its Precarious Legacy
Funded by
Deutsche Forschungsgemeinschaft DFG
Edited by
Dr. Martin Meiske

Wissenschaftlicher MitarbeiterDFG Projekt "Kulturen und Kosten der Wartung..."
Project description
In this project, the two more recent research fields of material history and maintenance and repair history are brought together. The analysis follows creosote, a coal tar oil, through various historical contexts from the end of the 19th century to the present day and illuminates dynamic interactions between technology, society, and the environment in Europe.
In a first step, the development from the by-product of the coal industry, which pollutes rivers, to the coveted wood impregnation agent for railway sleepers is to be reconstructed. If one then follows the creosote from the waste material to its new application as an impregnating material, a promising view on historical maintenance cultures opens up, which in large parts still has to be regarded as a research desideratum. The analysis is primarily aimed at the workers: inside the impregnation plants as well as the permanent way inspectors, platelayers, and track walkers in the railway maintenance service.
Impregnation institutes play a central role in the landfill registers that were created in the 1980s. The reconstruction of the conflicts surrounding their rehabilitation, which has been reflected in a growing number of citizens' initiatives in recent years, is a fruitful topic for interdisciplinary research at the interface between environmental history, the history of technology, and environmental sciences.
Finally, the history of the railway sleepers is also rich in changing forms of conversion, which should be examined in detail. In the railway foreman's creative use of old sleepers, the line between maintenance and innovation seems to be blurring. Until they were classified as a hazardous substance in the 1990s, impregnated old sleepers also found their way into public spaces and private households, where they were used, for example, as fence posts or raised plant beds.
Presentations
Berlin, Deutsches Technikmuseum, VDI Arbeitskreis Technikgeschichte, 28.4.2022: Kulturen und Kosten der Wartung. Der Aufstieg von Kreosot und sein prekäres Erbe
Lugano, Università della Svizzera italiana, Laboratorio di Storia delle Alpi (LabiSAlp), Workshop: "Communication Maintenance in Longue Durée", 24/25.2.2022: The Hidden Cost of Maintenance. Reflections on the Persistence and Long-term effects of Railway Tie Impregnation for Environment and Society
Hannover, Herrenhausen-Symposium, "Material Assemblages. Toward a New History of Infrastructure", 15.12.2021: Toxic Traces of Maintenance and Repair. Exploring the Rise of Creosote and its Precarious Legacy in Europe
Karlsruhe, Karlsruher Institut für Technologie (KIT), "Technikgeschichte über Mittag", Online-Vortragsreihe der Gesellschaft für Technikgeschichte (GTG), 3.12.2021: Von Bahnmeistern, Streckenläufern und Rottenführern. Was heißt und zu welchem Ende studiert man Wartungsgeschichte?
Wien, Universität Wien / Technisches Museum Wien, "Skalen, Normen, Grenzwerte im (digitalen)", Wandelgemeinsame Jahrestagung der Gesellschaft für Technikgeschichte (GTG) und der Gesellschaft für die Geschichte der Wissenschaften, der Medizin und der Technik (GWMT), 17.9.2021: Kreosot und die Lebenszyklen der Technik
Esch-sur-Alzette, University of Luxembourg, The Luxembourg Centre for Contemporary and Digital History (C²DH), Workshop: "Histories of Maintenance and Repair", 3.9.2021: Cultures and Costs of Maintenance. The Rise of Creosote and its Precarious Legacy
Picture gallery