Cold war military aircraft
McDonnell Douglas F-4E Phantom II
The F-4 Phantom II is a two-seater, twin-engine supersonic fighter plane.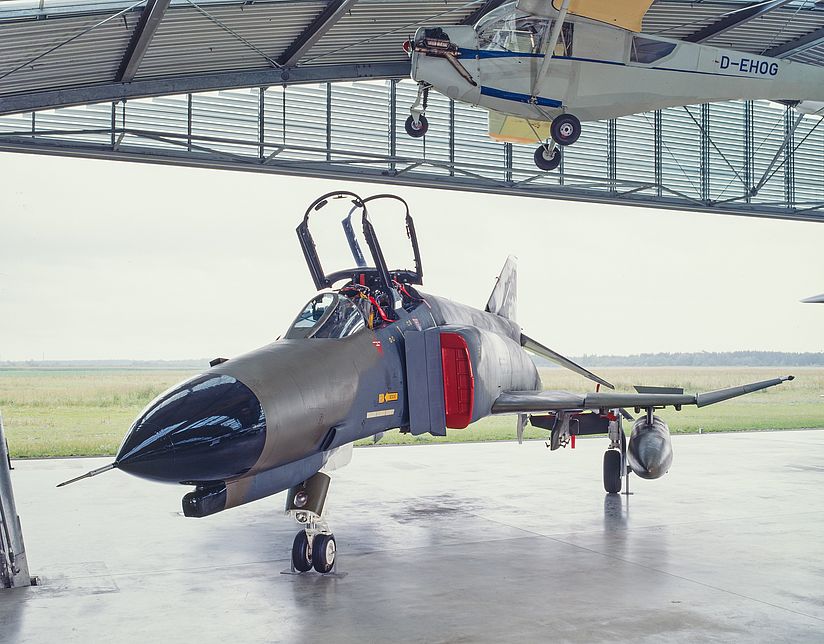 The American Phantom II was developed in the mid-1950s as an all-weather combat aircraft for the U.S. Navy and for use on aircraft carriers. The sturdy landing gear and solid tail hook clearly show the high amount of stress incurred during the landing on an aircraft carrier. From a technical standpoint, the Phantom II set the standard for other fighter planes of the period. Its speed, rate of climb, and weapon load were long unequalled.
Over 5000 of these planes were produced in numerous construction series until 1979. Among the most important customers, in addition to the U.S. Navy, was the U.S. Air Force. It was exported to several NATO countries, including the Federal Republic of Germany, as well as to Australia, Iran, Israel, Japan and South Korea.
The U.S. Air Force Phantom II on display here finally came to the USAF Spangdahlem base in the Eifel until it was mustered out in 1992.
Technical specifications:
Manufacturer: McDonnell Douglas, St. Louis/USA, 1968
Wingspan: 11.7 m
Take-off weight: 28,000 kg
Maximum speed: 2390 km/h at an altitude of 12,190 m (Mach 2.25)
Range: max. 2600 km
Power plan: 2 General Electric J 79-GE-17 jet engines with afterburner
Thrust: 2 x 52.8 kN (79.5 kN with afterburner)