Four-seat touring airplane. The constructor of the plane Klaus Bäuerle used this plane for a flight from Germany to the Antarctica.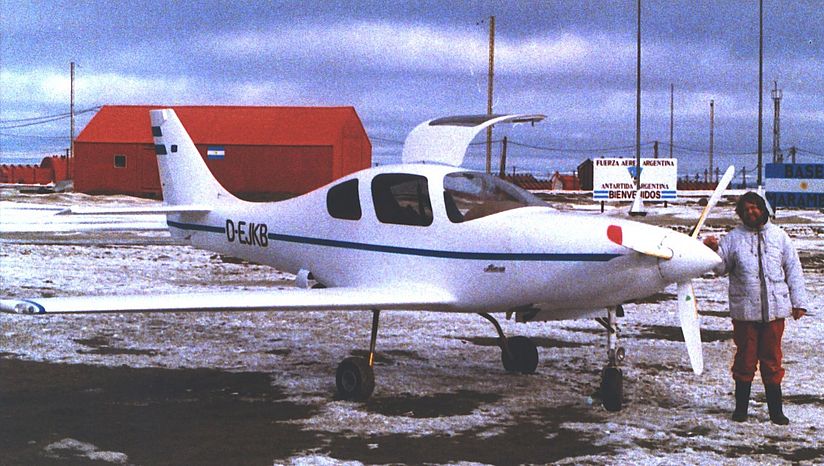 The Lancair IV is a kit plane that was built by Dr. Dr. Klaus Bäuerle and Robert Janus over a period of three and a half years. The progressive layout with a carbon-fiber composite structure and with aerodynamically shaped fuselage and wings, make high airspeed and a long range possible. The constructors optimized the airplane with the aim of achieving a long range and low fuel consumption: In touring flight with 45 % engine power, the consumption is 10 liters per 100 kilometers. This is equivalent to a middle-class car but at twice the speed. The range is an impressive 4800 km.
Klaus Bäuerle made use of this excellent flight performance for his flight from Germany to the Antarctica. In 1995 he flew across the Southern Atlantic (the longest period above water was 8 h 40 min) via Chile to Base Marambio (Antarctica). The return flight took him across the USA, Greenland and Iceland to Oberschleißheim
The first model (Lancair 200) was built in 1984. Up until 2005, more than 2000 kits were sold to 40 countries.
Technical specifications:
Manufacturer of the kit: Lancair International Inc., Redmond, OR, USA, 1991
Wingspan: 9.0 m
Take-off weight 1400 kg
Cruising speed: 407 km/h at 75%, 315 km/h at 45 %
Range: 4800 km
Power plant: Continental IO-550 6-cylinder fuel-injection engine
Power: 206 kW (280 hp)